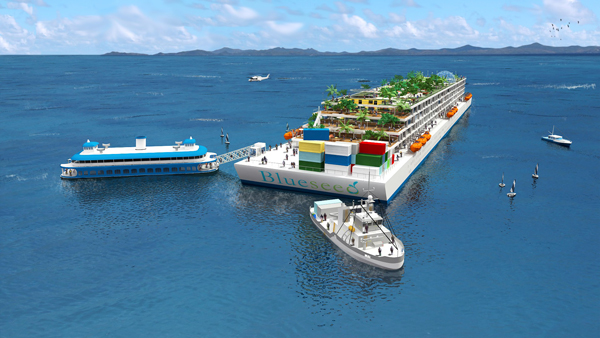 Part of our blog is devoted to exploring alternative lifestyles (tiny house living, homesteading…) and so I thought some readers might find this seasteading project interesting. No, the ship is not made of bamboo or other natural materials. However, there are numerous interesting features worth contemplating. For one, the ship will be positioned about 12 miles off the coast of San Francisco in international waters. This makes it especially convenient and practical for entrepreneurs from other countries to build businesses near Silicon Valley without requiring US work visas or US permanent residency. And, you can't put a price tag on working alongside hundreds of extremely talented, cutting edge entrepreneurs. This would be a once in a lifetime opportunity for launching a high tech company.


"Blueseed will station a ship 12 nautical miles from the coast of San Francisco, in international waters. The location will allow startup entrepreneurs from anywhere in the world to start or grow their company near Silicon Valley, without the need for a U.S. work visa. The ship will be converted into a coworking and co-living space, and will have high-speed Internet access and daily transportation to the mainland via ferry boat. So far, over 1300 entrepreneurs from 67 countries expressed interest in living on the ship.
Top motivation for moving to Blueseed: living and working in an awesome startup- and technology- oriented space. [The wireless 1 Gbps Internet will obviously be a nice feature.]
Top 10 Facts about Blueseed
1. Who is this for? – The world's best entrepreneurs and visionaries
The boldest, brightest, and most talented tech entrepreneurs from around the world. Plus the individuals and organizations that support and invest in them. 1100+ have already expressed interest.
2. Where will it be? – Right near Silicon Valley
On a ship anchored half an hour (12 miles) from Silicon Valley, in international waters outside the jurisdiction of the United States.
3. What does it cost? – Around $1,600 USD/person/month
We'll charge a combination of rent and equity to accommodate the stage of your startup. The price per person will include living and office space, and will range from $1200 for a shared cabin to $3000 for a top-tier single accommodation cabin."
Get the details at Blueseed Concept Vessels
Related: Seasteading Part 1
Seasteading Part 2
(Note how I try to show more sustainable seasteading concepts.)