Pisco Sin Fronteras is working to improve the living conditions of families and communities in Pisco by building and improving homes, working with schools, building sanitation units and working in community development. They have determined that building with earthbags is the best way to achieve their goals.
Three years on from the earthquake there is still a lot of work to be done in rebuilding Pisco. Many families are still living in terrible conditions, in mold covered canvass tents or in dirt floor houses made of plastic or scrap wood.
Earthbag construction can provide a long term solution to these problems, and a much better alternative to current building methods which are comparatively short term and less stable. Pisco Sin Fronteras believes that earthbag technology can provide permanent housing which will be stronger, cheaper to build and earthquake resistant.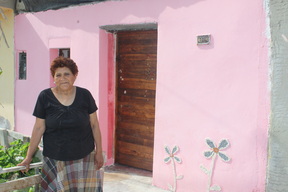 Carmela is a 65 year-old grandmother who lost her home in the earthquake, and for three years afterward she was living in a house made of scrap wood and plastic tarp. She had problems with thieves breaking in and with no proper shelter from the wind and elements it was very cold at night. They built her an earthbag wall to replace the exposed parts of her house, and after three years living in extremely uncomfortable conditions she can finally relax in her own home.
As a way to increase awareness of earthbag technology in Pisco, they are currently in the process of building a community center. They will be using this structure to teach the people of Pisco about this construction method. Once the community center is finished,  it will be used for the benefit of all the people living in the area and will also be  used as an information center to explaining all the different steps of construction for an earthbag structure and as an example of what can  be achieved using this construction method.