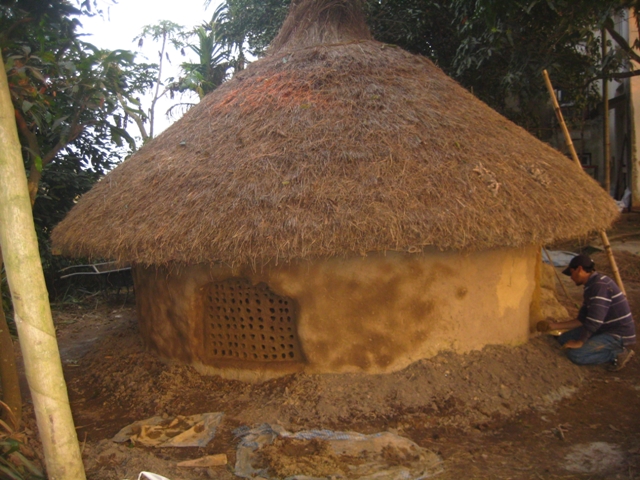 We've been getting a fair number of inquiries from Nepal. It's always great to hear from readers, but sometimes certain emails really stand out. This one really made my day. They sent some lovely project photos.
Dear Sir,
I am Narayan writing from Nepal. I am currently working in designing and building natural buildings in Nepal, specially Earthbag building. Recently, together with my friend, we have completed a earthbag home (round house). Please find the attached photo for your reference.
Main source of our inspiration and learning is from your website and blog. People of Nepal are putting their interest towards natural buildings after we have build this house as model. This is also becoming a source of inspiration and idea for people here.
I found your Earthbag workshop very relevant to me. I am interested to learn new tools, techniques and materials to build Earhbag building so that the learning can be applied in Nepal in the days to come. Since we are base in hot tropical region, the design and construction of cool pantry is very essential. It is very important to learn how to build a Cool Pantry for me.
We have been getting overwhelming response from people to build such buildings.We have already received demand for six houses. All buildings are volunteer in nature.
To meet this growing need, I need to learn more and more on Earthbag building and practice, which I believe this workshop would fulfill.
Therefore, I would like to apply as participant for the workshop. I am also keen to explore scholarship opportunity to attend this workshop.
Looking forward to hear from you.
Best, Narayan