Today's post is from Eco Friendly Shelters, builders of earthbag shelters. I love the look and the concept.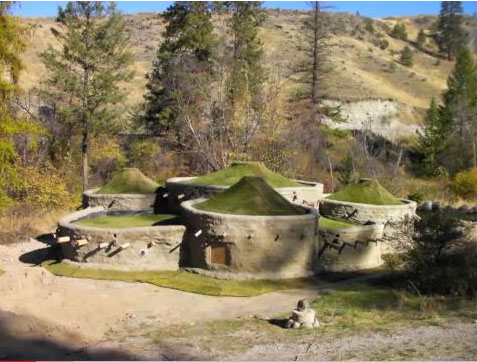 This project is a response to ever-increasing housing costs and regulations that prohibit ordinary Americans from being prepared for any disaster or emergency. The absence of a permanent foundation truly attracted us in a first place. All we have learned on this journey we are ready to share with you!
We designed this shelter with cost-efficient strategies, utilization of locally-produced tools and materials. Eco friendly approach has paid off with significant reduction in costs compared to a conventional construction. Earth Lodge 2.0 Emergency Shelter is designed and implemented as a self-sustaining project that has been complemented with concepts of permaculture and forest gardening. Over 300 trees and shrubs have been planted year-to-date.
Earth Lodge 2.0 Shelter Project goals and objectives:
– Earthbag Design – soil used for sandbags from the excavation of the site
– Made in America – focus on all products and materials that are made local to be used in this project
– Salvaged wood – logs salvaged from the property and roofing boards obtained were cut from salvaged logs from forest fires
– Rainwater collection – the Lodge has been designed with rainwater catchment in mind. It will be collected in centralized location and filtered through biosand filter
– Gray water – a discharge (not recycling) system capable of handling a large number of people
– Composting toilet – a must in this environment. The composting is healthy and responsible.
– Solar and Wind energy – to utilize off-grid set-up with solar system and wind generator as a back-up power source.
– Reciprocal roofs – we would never skip a chance to build another strong reciprocal roofs that are fun to build and tough to break
– Green roofs – a must in this project as with combination with sprinkling system will protect from blazing sun and cold winter wind
– Tubular skylights – natural light in all spaces.