"Bangladesh faces severe problems as a consequence of storms, cyclones and floods. The ancient practice of floating gardens – beds of straw and water hyacinths on which crops are grown – is making a comeback in the face of increased floods."
The floating gardens of Bangladesh, Myanmar and Mexico were all influential in composing this blog post. Thanks to our reader Paul for bringing this idea to mind.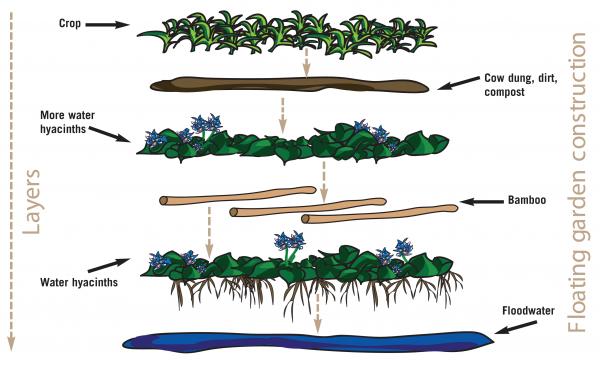 "How people are adapting to climate change and fighting food insecurity
For people who live in areas covered by water during the monsoon season, such as the riverine areas of Bangladesh, it is impossible to grow crops. Practical Action has developed a technology to allow farmers to grow food on flooded land.
The floating garden is a clever solution that employs the use of water hyacinth, which is collected to construct a raft. This is then covered with soil and cow dung, in which vegetables can be planted. A new raft needs to be built every year, but the old one can be used as fertiliser during the dry season.
The floating gardens provide vital food for people even during the annual monga (period of food shortages) and they can also provide an alternative source of income through sale of any surplus in the market. The rafts can be moved from place to place so are also suitable for those that have temporarily or permanently lost their homes and land."
Read more at the source: PracticalAction.org
YouTube
This video says hydroponic crops on floating gardens take only one month in comparison to crops on land that take three months. They don't use any soil, fertilizer or insecticide.
This video says floating crops can be grown year round, and provide an income during floods when other jobs are not available. At the end of the season, floating gardens are used to compost and fertilize winter gardens on land or used in construction of new floating gardens.
Additional comments about floating gardens can be found here.