The following is an article written by Jeanne Chaussee in the March 21, 2009 issue of the 'Guadalajara Reporter', is about a project in Mexico that I am involved with.
CHAPALA – Members of the Chapala Green Group have started a project teaching young people at the Niños y Jovenes Children's Shelter in San Juan Cosala how to build an "earthbag" home. At the center of  this project is Kelly Hart, who has already built several buildings like this in the United States.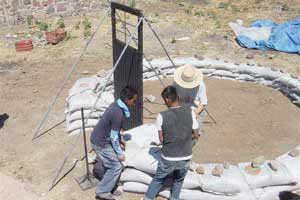 The Chapala Green Group is busy instructing kids from the
Niños y Jovenes shelter in a completely environmentally friendly,
efficient and inexpensive way to build an earthbag home.
The real beauty of these homes is that they don't cost much more than intense labor. They are built from dirt-filled "costales" (produce sacks) laid in a circular pattern on a foot-deep foundation that is reinforced with rocks and gravel. The sacks are stacked one upon the other, with the first two rows filled with gravel and rock to prevent the wicking of moisture up into the walls. The structure finally reaches into a dome shape without the necessity of beams to support the roof. Like caves or old adobe structures, the climate inside is nearly completely controlled at a mellow 68-70 degrees Fahrenheit, requiring little or no cooling or heating. When completed, the structure will be about 5 meters across and just about as tall and will be covered with stucco to protect the sacks. Richard Bray, another involved volunteer pointed out that over a period of time, similar structures can be added to the initial one to provide more space for a family or storage.
Many of the students involved are from impoverished communities and the group hopes that they will take this technology back to those communities where the process could provide comfortable shelter for many with almost no cash outlay. Four men working eight hours a day could complete one of these structures in about a week.
The San Juan Cosala project has several foreigners involved, with lots of Mexican kids doing the grunt work, all working together. They are working Saturday mornings from 9 a.m. to 12 p.m. and the public is invited to come and have a look at the project. Be forewarned, though: this is not a social reception and you might just be asked to participate.
So far, the group has spent about 2,300 pesos. It will take about 10,000 pesos more to complete the building. Those interested in learning more should go online to www.greenhomebuilding.com or www.earthbagbuilding.com.
Anyone interested in contributing to help fund this project can do so by going to the bottom of the home page at www.greenhomebuilding.com and clicking on the "donate" button.