Nothing beats the beauty of old growth lumber. "You'll never find material today that has that characteristic. I don't care how hard you look, unless you go to South America. And who wants to go to South America and destroy the rainforest when we've got material in this country that's being thrown away."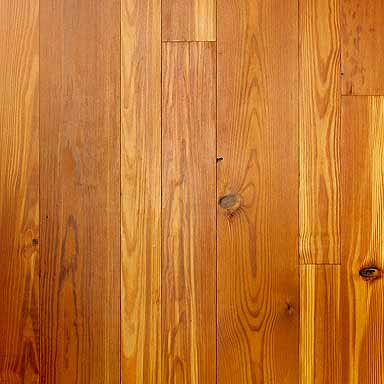 "Whether it's pine flooring, oak flooring, or heart pine flooring, all of our reclaimed flooring projects are environmentally friendly and a work of nature's art – a physical expression of beauty beneath your feet. With reclaimed flooring you can be certain that no living tree has been sacrificed, while enjoying the unique elements of authentic wood grains that are simply no longer created in trees of more recent origin.
Hardwood flooring has one of the longest life cycles of any natural building material and has long been a top floor of choice because of the warmth and beauty it brings into our homes and because these floors can last for generations. But antique wood flooring additionally adds a depth of character, richness of color and tight grain pattern styling that has persisted for generations already – whether originally harvested for the factories that built the Industrial Revolution, or as the structure for buildings and barns all across the country that have endured through many seasons.
More and more people want natural products throughout their home and are looking to create earth-friendly interiors where they can feel surrounded by nature. What could be more natural or earth-friendly than antique wood flooring?
The tried and true character of antique wood flooring can invite a visually stunning spectacle into your home to provide the reliable movement of warmth throughout all your living spaces. With our green flooring, what was once thrown away, or abandoned by the elements, gains new life as beautiful hardwood flooring in your natural home."
Source: Whole Log Lumber