The Book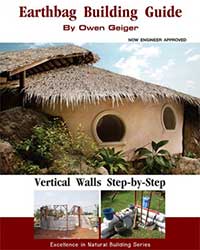 The Earthbag Building Guide is a $20 e-book that will be sent to you via email within 24 hours after purchasing it, which makes it easily available anywhere in the world. Chapter titles give you a good idea of what it covers: Dirt Cheap Shelter, Choosing a Plan, Tools, Supplies, Foundations, Bag Walls, Tube Walls, Openings and Details, Lintels and Bond Beams, Insulated Walls, Roofs, Plaster, Finishing Details, and First Projects. See the complete table of contents  just a little further down on this page.
Much has been learned about earthbag building over the last few decades through research, trial and error, and sharing of information. It is becoming increasingly clear what works best and why. This book pulls the most practical ideas together and will help take this movement to the next level.
This builder's guide does that by providing simple, clear explanations of each step of construction, from earthbag foundations that don't require concrete, to complete information on tools and supplies, as well as tips, tricks and advanced earthbag techniques.
All major aspects of building earthbag houses with vertical walls are covered: Planning; Dirt cheap building techniques; Building code issues; Electrical and Plumbing; Cost estimating; Insulation; Landscaping options. It is profusely illustrated with about 185 color photos and detail drawings.
Here is one of the favorable reviews the book received:
"I have built with earthbags for over twenty years, having helped develop the concept with Nader Khalili in the early 1990′s. Of all the texts on earthbag building that exist (including mine), I have to say that Owen Geiger's Earthbag Building Guide is by far the most thorough, detailed and technically useful book on the subject yet to emerge. I will be referring to it often in my own projects and look forward with keen interest to forthcoming titles from this talented researcher." — Joseph F. Kennedy, editor The Art of Natural Building and Building Without Borders
You can read more reviews here. (Scroll down on that page.)
A link to download the  Earthbag Building Guide will be sent to you within 24 hours of your purchase.
PDF of Earthbag Building Guide

$20