Climate change has spurred renewed interest in the ancient technique of rammed earth. Mud and clay have always been an abundantly available way to build walls. More than two billion people across some 150 countries live in buildings made of earth.
"A kilo of cement emits a kilo of CO2. Whereas a kilo of earth emits none," Xavier Chateau of the Navier Laboratory at the French National Center for Scientific Research said. "If we could reduce by 25 percent the volume of cement consumed globally it would be equivalent to negating the impact on the climate of all air transport," he estimated.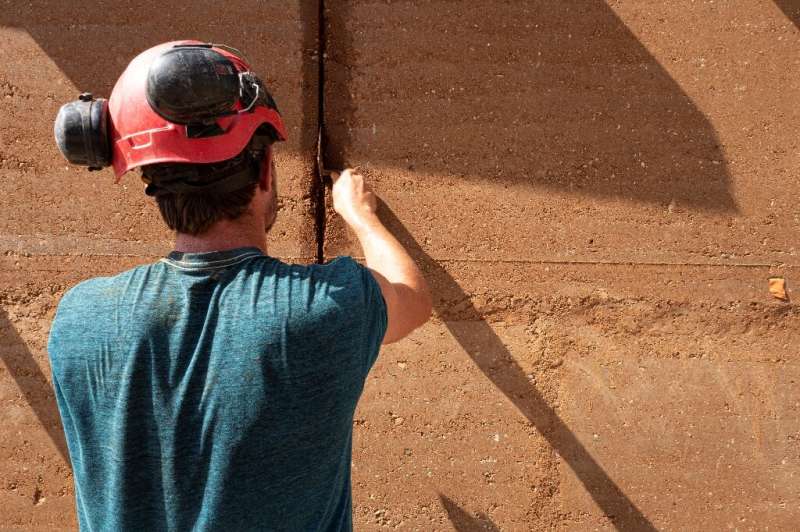 Rammed earth involves compacting certain soils into a mold to make building blocks or build up whole walls, layer by layer. Often substances such as lime or straw can be added to the earth to stabilize it and bolster its durability.
Earth also has a high thermal capacity, is self-regulating its humidity, is fireproof, non-toxic and can be completely recycled. On the other hand, earth-constructed buildings need protection from flooding. Raw earth can be combined with cement at the foot of the building to solve the problem of water" encroachment.
French building material firm Saint-Gobain is experimenting with a hybrid system of "earth concrete", combining excavated earth from construction sites, steel industry waste and hemp.
Austria has Europe's only factory for making low-energy prefab homes using rammed earth methods. They create foundations, floors and walls using chalk, clay, chopped straw, lime and gravel. A machine pounds the earth which is compacted into a vast casing to produce 40-metre (130-foot) long walls. Once dried and cut to size, the blocks are sent off to be assembled.
Environmentalist, entrepreneur and former potter Martin Rauch, who built the factory, has several earth-constructed buildings to his name, including his home whose exterior walls include terracotta designed to act as a brake on rain and erosion, a throwback to ancient methods used in Saudi Arabia. He says that hopefully people will realize that "earth structures will last for centuries, if they are built correctly."
You can read the original article at techxplore.com