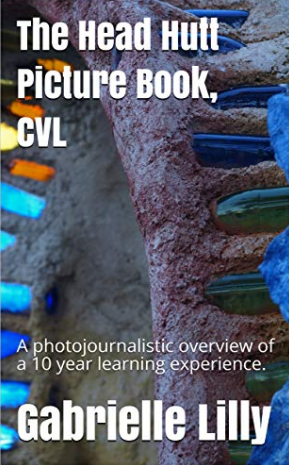 I just finished reading The Head Hutt Picture Book: A photojournalistic overview of a 10 year learning experience  by Gabrielle Lilly. This is one of several colorful kindle editions that she has published about this project.
Gabrielle was trained as an artist, specializing in ceramics, and especially loved to create sculpted head shapes. When she got interested in creating a mega-sculpture in her back yard, she decided to learn about how Earthships were put together and spent some time at the Earthship/Biotecture academy pounding tires and playing with recycled cans and bottles. This influenced the nature of how the Head Hutt was conceived and executed.
The story that she tells via pictures and words is a very personal experience that was both cathartic and empowering for her. The project was a labor of love done during her spare time between work and being a mother of a teenage boy.
First she (and occasional friends) dug a huge hole in the yard that would swallow the many tires she had been accumulating to create the circular wall of the basement area. Excavating by hand and pounding dirt into those tires was demanding and exhausting work.
Once she got above the ground level, she was able to begin the more sculptural aspects of her design. Using combinations of rebar, concrete, adobe, lime, papercrete, wire mesh, glass bottles, and aluminum cans, she experimented with layer upon layer of increasingly more colorful applications. The final domed form has a fun, almost surreal quality.
Gabrielle is very frank about her many struggles and failures, as well as her tremendous satisfaction of accomplishing her goal. She encourages others to go for their dreams.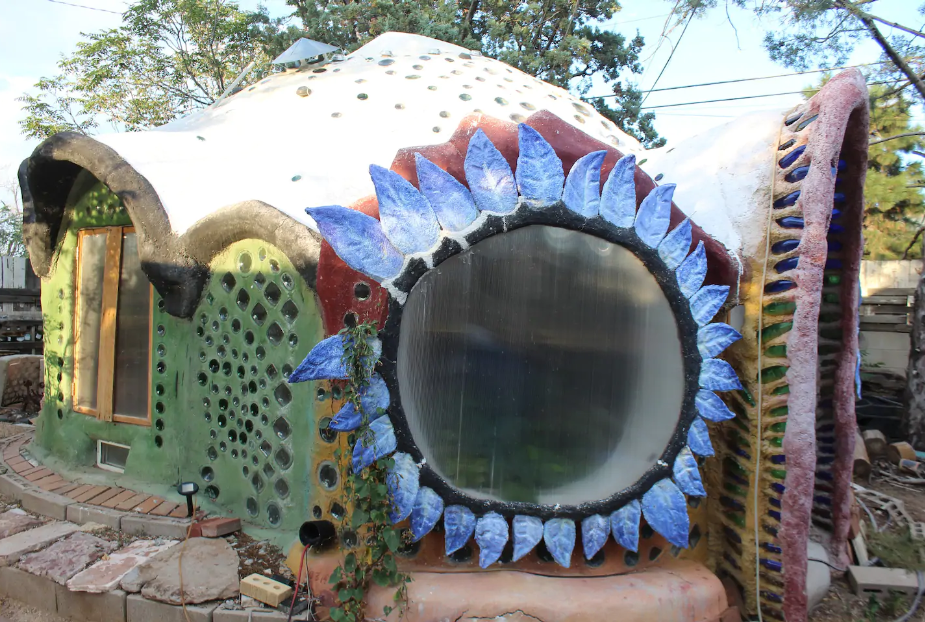 The Head Hutt is now available for rent through AirBnB in Albuquerque, New Mexico.
Here is a video she made describing her experience of digging the initial hole: www.youtube.com