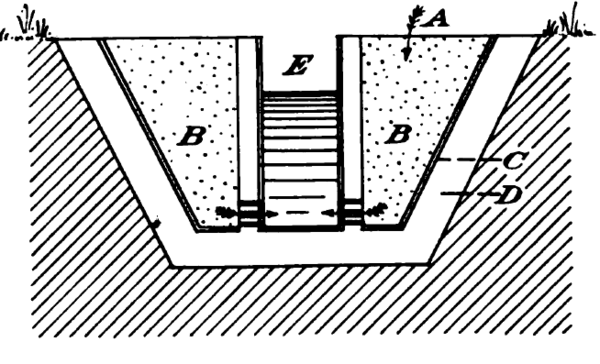 One simple way to collect and store potable water is with a Venetian cistern. In ancient times, Venetian cisterns were often constructed in courtyards near homes for easy access.
Construction details can vary, but the basic components are shown in the drawing above.
A – Rainwater or water from other sources such as streams enters the cistern through the top.
B – The water is stored in sand or gravel. Using gravel at the bottom will assist in removal of water.
C and D – A cistern lining contains the water and keeps out dirt, groundwater contaminants, etc.
E – The central water storage area is separated by a 2nd lining (shaft) to keep out sand and gravel. The water can be removed with pumps, buckets, etc. Using modern materials you could put well pipe in the middle instead of building it like a cistern.
Image source: Ben and Bawb's Blog