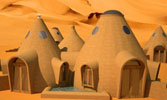 Enviro Earthbag Dome An ideal starter home, this plan is easy to extend or even create large dome clusters. Compact, but highly livable, the Enviro Dome has everything you need. Two lofts add 235 sq.ft. extra space for sleeping, home office, living or storage. The enviro dome is perfect for the beginner do-it-yourselfer who wants to build their own eco-friendly home at the lowest possible cost.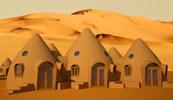 The Enviro Dome 2 is the same plan as above, except there is a second bedroom dome and closet added on the right. Compact, but highly livable, the Enviro Dome 2 has three lofts with extra space for sleeping, home office, living or storage.
Anyone can build this simple Peace Dome which contains all of the necessities for habitation. In addition to the basics, you could incorporate solar hot water, greywater recycling, composting toilet (shown, although a flush toilet can be used) to further reduce your ecological footprint. There are hot/cold, wet/dry climate design options available.
In this Roundhouse/Dome Cluster there is a 2-story roundhouse in the center with either domes or more roundhouses on the east and west. There is a possible third bedroom, game room or home office in the roundhouse loft, 2 baths, separated bedrooms, large walk-in closets, dining area next to the windows, and lots of south-facing doors and windows.

How to Build a Small Earthbag Dome A free, step-by-step description of how a 14 foot diameter earthbag dome was created. This prototype dome could serve as a model for emergency shelters, cabins, studios, garden sheds, etc. It should work well in earthquake-prone areas and places subject to flooding, winds, and hurricanes. This description is presented in three parts.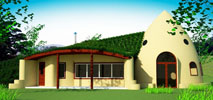 The Spiral Dome Magic homes combines the Peace Dome and Spiral Houses, which are also available separately. But by combining them it really creates a truly exciting design. This unique, almost Hobbit-like earth-sheltered design includes a large grow bed, exposed timber ceiling and living roof. 452 sq. ft. interior dome, 740 sq. ft. interior spiral, plus pantry, 2 bedroom, 1 bath
Like o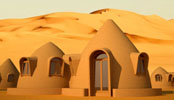 ther tiny houses, Tinyville provides just the basics in a compact space. It is intended as a starter house for those with little or no building experience and very little money. This design joins a 13′ interior diameter main dome with loft and a 10′ interior diameter small dome, with a vaulted passageway.