Owen Geiger, Designer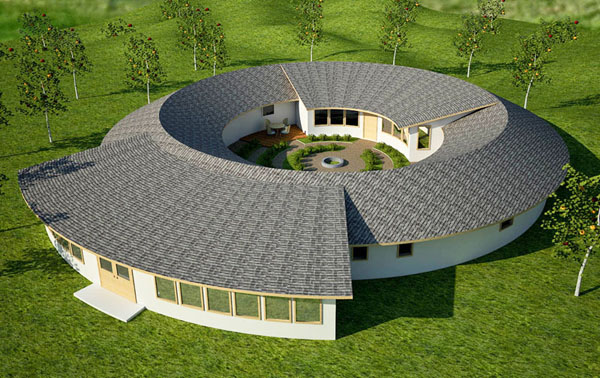 The Torus Design concept was inspired by the movie Thrive, which outlines ways of creating prosperity and equality in the world. The design brings together three emerging trends: increasing self sufficiency — including renewable energy and food production, families moving back together to save money, and sustainability. These trends are evident in the growth of home gardens, organic food, green building, eco-conciousness, off-grid homes, do-it-yourself attitudes, and cost cutting strategies such as bartering and trading for goods and services.
The current version could be used as a duplex (rent the other half to slash your bills). You could split costs with a friend or family member and share the courtyard. A lot of people can no longer afford their own home, so this design offers a potential solution for families to move in together. The design could be customized for large families.
Options not shown: cisterns on the exterior and courtyard, underground Earthbag Survival Shelter with optional escape tunnel, Cool Pantry, rainwater barrels, food forest surrounding the home.
2,224 sq. ft. interior, 564 sq. ft. greenhouses, 1,520 sq. ft. courtyard, each side has two bedrooms, two baths, Footprint: 74' diameter not including 8.5' wide greenhouse.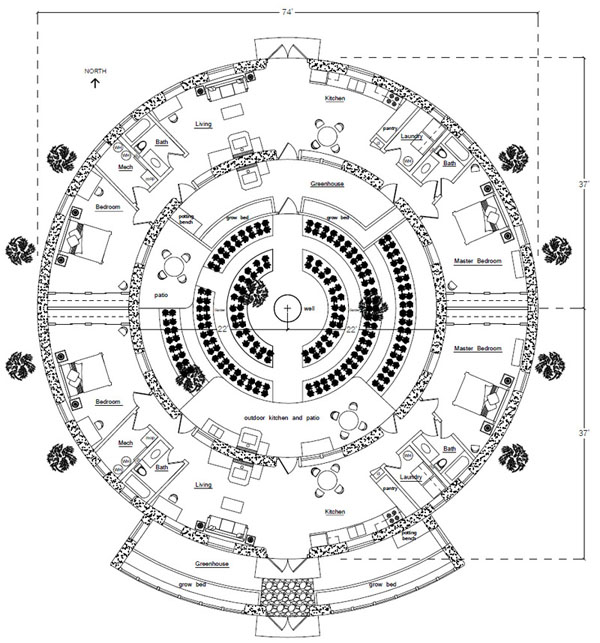 The Plans for Sale
These plans are available as digital PDF files or AutoCAD files and are offered by Dr. Owen Geiger as complete and ready to build from. They include necessary elevations, floorplans, cross section details, and other significant construction details; they don't show every view, every detail — just enough to build. They do not include electrical and plumbing details. The section views explain how everything goes together and should answer your questions about materials. The plans are scaled and dimensioned.
It is the buyer's responsibility to find out special requirements, such as what alternative building is allowed in your county or what you have to do to get houses permitted. Are there special requirements for foundations, etc.? Do they require an engineer or architect to stamp the plans? It might be a good idea to know these things before ordering plans.
The AutoCAD version is the same as the PDF version, just in a format that can be read by AutoCAD software or other software that reads .dwg files. We recommend buying the AutoCAD version if you plan to have a professional architect or engineer read or make changes to the plan. This may be necessary in some jurisdictions that require state-licensed architects or engineers to stamp plans before they will be acceptable. Or if you want another professional to make some custom changes to Owen's stock plans, then AutoCAD version may be the way to  go. If you would like both the PDF and the AutoCAD versions, then just indicate this when you purchase the AutoCAD version and they both will be sent for the price of the AutoCAD file.
This plan is offered with a free copy of Owen's popular Earthbag Building Guide e-book.
PDF Digital Plans
(computer renderings)

$400

AutoCAD files

$600