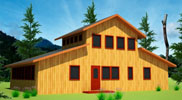 This Barn-style House is easy to extend lengthwise in the future. The south-facing shed wing can be finished to client preferences. A larger dining area, grow space, rec room, garage, or even an extra bedroom are all possibilities. 1,260 sq. ft. interior plus 246 sq. ft. upper floor (1,506 sq. ft. total), 3 bedroom, 2 bath; footprint: 33′ x 46′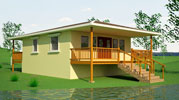 Features of this Beach House include a deck and large window wall that faces the waterfront, and screened porch in the rear. Designed to weather hurricanes and other extremes of ocean-front property – a perfect application for earthbags, which far surpass most other building materials.
This Beachcomber House is perfect for most large families. It has spacious bedrooms with computer desks, a large modern kitchen and wood stove. The master bedroom features a walk-in closet and private bath, and is opposite from other bedrooms for privacy.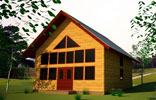 Designed for the mountains, this vacation Chalet has a large window wall and deck facing the mountain view. The master bedroom bedroom is on the upper floor. 672 sq. ft. interior plus 135 sq. ft. upper floor (807 sq. ft. total), 2 bedroom, 1 bath.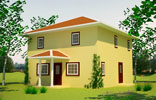 This sustainable home design is named after one of the most productive agricultural regions in the world – Chonburi, Thailand. Rich with old world charm and character, it has a tiled hip roof, covered entry with columns, arched doorways, large country-style kitchen, and all bedrooms upstairs for privacy. Master bedroom has private bath and love seat. Designed for hot climates, this plan can easily be modified for cold climates.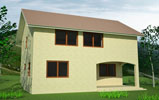 Classic country design and detailing make this a beautiful and comfortable Country House. Instead of a large porch, it be enclosed for a greenhouse and passive solar. 1,032 sq. ft. interior, 2 bedroom, 2 bath; footprint: 27′ x 35′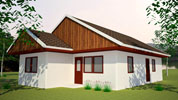 Ideal for urban or rural areas, this Cozy Cottage is the right size for new families, or for retiring couples who want to downsize. Features include a laundry room with mop sink and closet, kitchen island with breakfast bar, built-in bookcases/entertainment center, wood stove, on-demand water heater and a pleasant dining nook.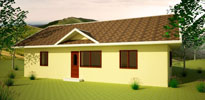 This Craftsman plan has all the amenities of a larger home, in a compact space. 814 sq. ft. interior, 3 bedroom, 1 bath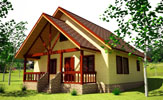 This Crow Design has a cathedral ceiling over the main living space, wood stove, passive solar design and large porch on the west to block the hot afternoon sun. There is a good-sized loft over the bedrooms and bath. 728 sq. ft. interior plus 366 sq. ft. loft, 2 bedroom, 1 bath; footprint: 29′ x 31′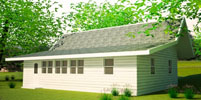 Classic mid-west styled farmhouses are extremely practical. This particular Double Wide Farmhouse design includes 10.5′ high walls on the north half, shed roof on the south half, loft over the bath and bedroom, single framed wall down the center. This is a good design for building in stages, including adding additions later.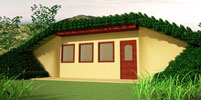 Based on ancient Native American designs, this Earth Lodge with living roof will keep you cozy and warm even in the harshest climates, because it is earth-sheltered. South-facing windows and a skylight over the kitchen ensures ample daylighting.
This Farm Guesthouse provides housing for your guests in style. It is compact, yet highly efficient and comfortable. Features include a generous kitchen, country style kitchen table and large covered patio. A vine covered pergola dresses up the south side of the house and helps keep it cool. 343 sq. ft. interior, 1 bedroom, 1 bath; footprint: 23′ x 27′ plus pergola
This classic Farmhouse design can be built in two phases: 1. Main two-story structure; and 2. Shed roof addition with family room and 3rd bedroom, with excellent passive solar gain. 928 sq. ft. interior plus 512 sq. ft. upper floor (total 1440 sq. ft.), 4 bedroom, 3 bath; footprint: 32′ x 35′
This Garage/Apartment

is practical and affordable. It's ideal for use as a rental unit or grandparents' apartment. A two car garage, shop, storage area and optional laundry are on the first floor. 525 sq. ft. interior apartment, 715 sq. ft. interior garage, Footprint: 30′ x 34′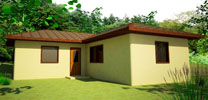 The main characteristics of this L-Shaped House include efficient use of space, while offering basic necessities and a few extras like a wood stove, good-sized computer desk and passive solar design. 552 sq. ft. interior, 1 bedroom, 1 bath; footprint: 32′ x 32′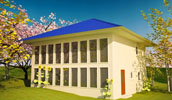 This Modern House features a stunning 30′ wide by 2-story window wall to face the mountains, lake or other view or collect passive solar heat. A large grow bed provides year-round growing space for flowers, dwarf fruit trees, tomatoes, herbs and other plants. 840 sq. ft. interior plus 390 sq. ft. upper floor (1230 sq. ft. total), 3 bedroom, 2 bath, home office or bonus room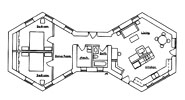 With these Modular Pods you can configure them in many ways, with as many as you want. Pictured is the simplest two-pod model. This enables the home to be built one stage at a time, with tremendous versatility in room arrangement.

Mountain Cottage Excellent solar gain, superinsulated earthbag walls filled with insulation, and interior thermal mass make this home ideal for cold mountain climates. 638 sq. ft. interior plus 638 sq. ft. upper floor, 3 bedroom, 2 bath
Sacred Mountains  is a 2 bedroom, 1 story, 1725 sf (to the outside) house that is designed around the traditional hogan concept of Southwestern native Americans. This was originally designed as a demonstration home for a variety of natural building techniques, so that it employs cordwood, strawbale, adobe, rock, earthbag, and timber-frame aspects.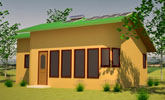 The Solar Cabin is small and simple, yet it has ample size and all the comforts for off-grid living. Features include passive solar design, large loft, grow bed and modern kitchen. 622 sq. ft. interior plus 273 sq. ft. loft, 1 bedroom, 1 bath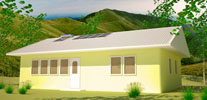 This Solar Ranch House is a very livable and comfortable, this solar ranch has vaulted ceiling in the great room, a modern kitchen and wood stove. 805 sq. ft. interior, 2 bedroom, 1 bath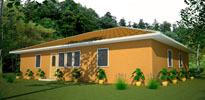 This Summer Breeze House does well in hot climates, but would also have some solar gain in northern latitudes. The center section has extra windows on each end to allow breezes to flow through the house. Features include a large master bedroom with private bath access, laundry, breakfast bar, wood stove and built-in cabinets.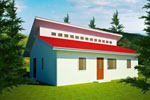 'Sweet Spot' refers to a great place to live as well as a good, efficient design. The Sweet Spot is designed from the inside out using all standard sizes for maximum comfort and convenience. This includes a large bedroom with desk, a standard 5' bath with bathtub, large kitchen with standard sized frig and sink, and large living room and dining area. There is an addition for the south side of Sweet Spot. It adds two extra bedrooms and more living space.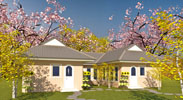 This pleasant U-Shaped Home looks inward to an inviting flagstone courtyard with trees and plants. Spacious windows fill the home with light, while the earth floors, earth plaster and earthbags provide thermal mass to store excess heat, thus providing an even, comfortable inside temperature in moderate climates.
This Wilderness Cabin design is for remote fishing and hunting camps where it is difficult to transport building materials. It is compact, efficient and easy to build. A sleeping loft is under the high side of a shed roof. Note: Pier footings are shown here for sloping sites, but with earthbags it is usually easier to build right on the ground.