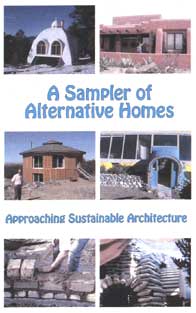 A Sampler of Alternative Homes: Approaching Sustainable Architecture . This two-hour DVD, produced by Kelly Hart, provides an overview of sustainable building concepts. You can enjoy a look at a fascinating variety of homes and the creative people who built them! Discover how passive solar design and environmentally low-impact materials can be used to create comfortable and economical homes. See the use of both traditional materials, such as adobe, and innovative materials, such as papercrete and earthbags.
This program offers a wealth of information about construction details and other considerations. It covers adobe block construction, piled adobe (similar to cob), rammed earth, both load-bearing and post and beam strawbale, earthships, earth-sheltering, cordwood, thin-shelled concrete domes, papercrete, earthbags, hybrid structures, and recycling various containers for housing. To watch a streaming video introduction to this program, click here.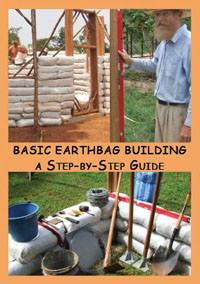 Basic Earthbag Building: a Step-by-Step Guide  is a comprehensive DVD created by Owen Geiger. The first part of the DVD provides clear, simple explanations of each step of construction, and includes full coverage of the tools and supplies needed to complete any sized project.
The second part documents the construction of a cool pantry, which uses the same basic steps as most any other earthbag structure. Watching the construction of an actual project is key to understanding the whole process, and will enable you to see how all the steps and parts go together.
For more information about this DVD read this page.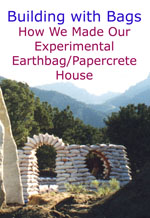 Building with Bags: How We Made Our Experimental Earthbag/Papercrete House 1 1/2 hr. DVD produced by Kelly Hart. We wanted to build an environmentally sensitive and aesthetically pleasing home at a moderate price. We chose to create earthbag domes covered with papercrete (recycled paper combined with cement and sand). This honest DVD documents details of the construction, insights gained, and the ups and downs (literally!) of the building process. Several other earthbag homes are also shown. For more information about the house see this page. To view a streaming video introduction to this DVD click here.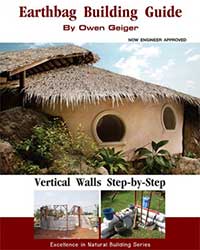 Earthbag Building Guide: Vertical Walls Step by Step, by Owen Geiger, is a $20 ebook that you can download immediately after purchasing, which makes it easily available anywhere in the world. Chapter titles include: Dirt Cheap Shelter, Choosing a Plan, Tools, Supplies, Foundations, Bag Walls, Tube Walls, Openings and Details, Lintels and Bond Beams, Insulated Walls, Roofs, Plaster, Finishing Details, and First Projects.
For more information about this ebook read this page.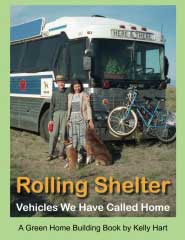 Rolling Shelter: Vehicles We Have Called Home is a personal account of Kelly and Rosana Hart's life in two different buses, three vans, two small motor homes, two travel trailers combined into one house, and two cars. Kelly tells stories about how they spent time exploring the western United States, Mexico and Guatemala, all the while living in various RV's. This book will inspire you and give you some ideas for how you might take advantage of vehicles to provide shelter in your life.
In full color, the book features over 200 photographs and 5 detailed floor plans. With descriptions of how the conversions were accomplished, it is valuable both as an overview of vehicular dwelling and as a construction manual for how you might convert your own.