Free sample earthbag plan by Precision Structural Engineering
Here is the free sample earthbag plan from Precision Structural Engineering.
Several free plans by Owen Geiger are now available: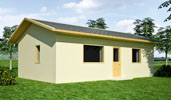 Economizer House Plan PDF
Preview the Economizer House Plan here.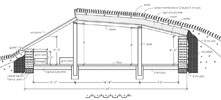 Solar Pit House PDF
Preview the Solar Pit House plan here.

D
esert Shelters PDF
Preview Desert Shelters by searching this phrase in the built-in search in the right hand column.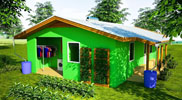 Craftsman Bamboo/Plastic Bottle House PDF 
(Honorable Mention in Shelters for All housing competition)
Preview the Craftsman plan here.
Earthbag House for Haiti
View and download complete complete plans at Teach Democracy.org.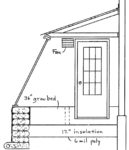 Attached Greenhouse
Both slanted and vertical glazing options with simple side view.
Want to see more plans? My Earthbag House Plans site has about 130 plans. Most cost only $200-$300 and can be ordered from Dream Green Homes.