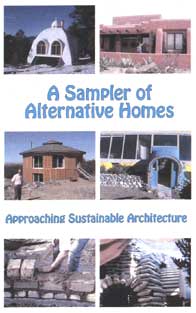 A Sampler of Alternative Homes: Approaching Sustainable Architecture . This two-hour DVD, produced by Kelly Hart, provides an overview of sustainable building concepts. You can enjoy a look at a fascinating variety of homes and the creative people who built them! Discover how passive solar design and environmentally low-impact materials can be used to create comfortable and economical homes. See the use of both traditional materials, such as adobe, and innovative materials, such as papercrete and earthbags.
This program offers a wealth of information about construction details and other considerations. It covers adobe block construction, piled adobe (similar to cob), rammed earth, both load-bearing and post and beam strawbale, earthships, earth-sheltering, cordwood, thin-shelled concrete domes, papercrete, earthbags, hybrid structures, and recycling various containers for housing. To watch a streaming video introduction to this program, click here.
You can purchase this DVD for a total of $30 directly from Kelly Hart below. Allow at least a week for postal delivery.
A Sampler of Alternative Homes DVD


$30