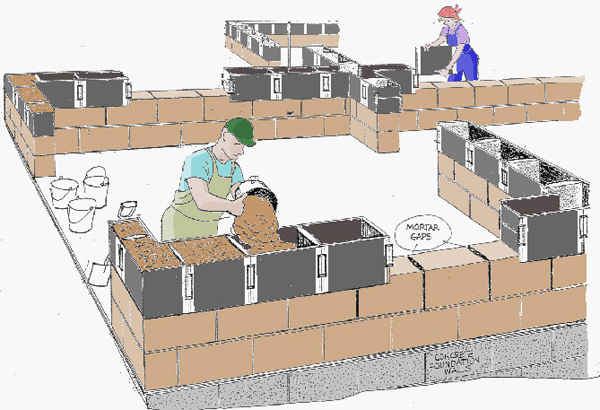 Typical adobe construction involves making adobe blocks by digging and mixing mud, filling molds with the mixture, drying the blocks in the sun, turning the blocks every so often, moving the blocks to cure under cover, and then moving them to the jobsite where they are often moved several more times in the course of constructing the wall. A typical New Mexico size brick is four inches thick, ten inches wide, and fourteen inches long (4x10x14). A brick this size will weigh about thirty pounds. Obviously building with adobes is a slow, labor intensive process. (Despite the drawbacks, adobe is still one of my favorite natural building methods due to the low environmental impact, widespread applicability, relative simplicity and beautiful finished appearance.)
But what if the adobes could be cast directly on the wall and never moved? Ahh… this would cut out numerous steps and greatly speed the process several fold. You could make your own forms or buy pre-built forms by a company such as Formblock.
"FORMBLOCK is a wall building system in which stabilized earth, or concrete blocks are cast in-situ to produce a solid load bearing wall. In use now for over 15 years in a range of conditions throughout Australia and New Zealand, it has been thoroughly tested by professionals, architects and owner builders.
The FORMBLOCK Wall Kit is designed in 300 millimetre modular units that is easily assembled to produce a course of blocks, each 600 mm long, 300 mm high, 300 mm thick, it fits neatly with other conventional building systems.
The FORMBLOCK method significantly reduces the labour required to produce an earth wall to only fraction of that compared to adobe (mud brick) or pisé (rammed earth) methods of earth building. As the handling of the earth material is minimised, by the in-situ nature of block making. Once the blocks are poured, the wall is effectively complete, with no further need of on going maintenance, making the FORMBLOCK system a cost effective and affordable method of masonry wall construction.
The FORMBLOCK Wall Kit requires no expert skill, it is easy to use and simple to understand and is ideally suited to tradespersons, owner builders, and handypersons, alike.
The FORMBLOCK Wall Building Kit conserves natural resources. By producing earth-based blocks, you will contribute in saving global energy otherwise used by industry to produce other building materials, such as fired bricks, etc. as well as the thermal properties of the walls giving you ongoing savings in heating energy.
Less reliance on timber, means less deforestation. The FORMBLOCK system is NOT a wasteful 'once only use' formwork, it is designed and made for long lasting repeated use."
Estimated wall cost: Free earth plus cement using 9 parts earth : 1 part cement, equals approximately $23-$50 per sqm wall area. Check for availability of used FORMBLOCK molds. The molds could be used on future projects or sold when your house is finished.
More information:
There's a risk of cracking in cast in-situ adobe walls, so take care to test the soil mix carefully.
Other materials such as hempcrete, and gypsum and lime-stabilized soil could be used. Hydrated lime can be used in place of cement.
In-situ adobe is ideal for curved walls, which can be made with curved sheetmetal molds.
Rebar can be used inside the walls to add strength when building in seismic zones.
Nice photos of custom homes made with in-situ adobe at Ecodesign
Vene block timber molds See slideshow: Low Cost Construction
You can make your own molds. They can be very simple or made more complex.
I believe The Owner Builder Journal in Australia has articles about this building method in back issues.