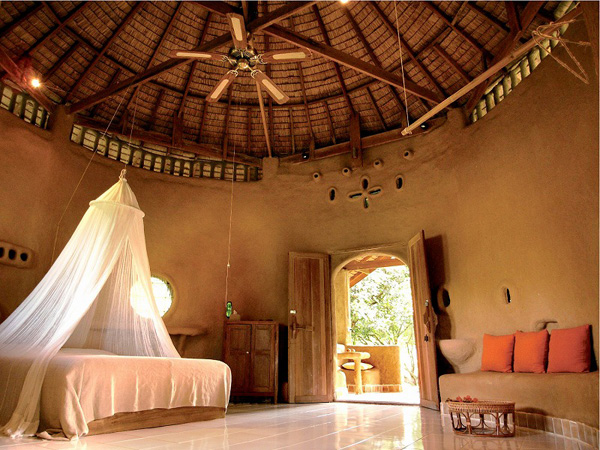 "This is an absolutely unique guest cottage. Clay Cottage took one year, by several volunteers at Ban Rom Sai to build. The cottage is made entirely of clay! Using a unique construction method, which is primarily used in Africa, and with support from a local architecture professor, Clay Cottage is wonderfully cool in hot summer days and cozily warm in the cool winter evenings. There are many unusual features of this cottage, such as bottles as windows and built-in clay sofa, tables and shelves. The cottage is comfortable, but is more for the adventurous guest.
List of Amenities for Clay Cottage
Kitchen Appliances: hot water kettle, microwave and refrigerator
Drinks: Coffee & tea, mineral water is available free of charge
Bathroom Amenities: Bathroom amenities: candles, flash lights, hair dryer, lighter, insect repellant, shampoo & hair conditioner, soap, towels and tissues
Hoshihana Village is located roughly 30 minutes' drive from Chiang Mai's city center. There are no supermarkets, convenience stores or restaurants near Hoshihana Village, but a daily shuttle service is available to take guests to the local market, which is about a 10 minute drive away and open until noon. Guests can also buy necessities in Chiang Mai, when they are out and about and bring these back to Hoshihana Village."
Source: Hoshihana Village
Notice the cool tile floor on the earth coupled floor, high sloped ceilings and vents above the bond beam for natural convection, and ceiling fan to enhance cooling.