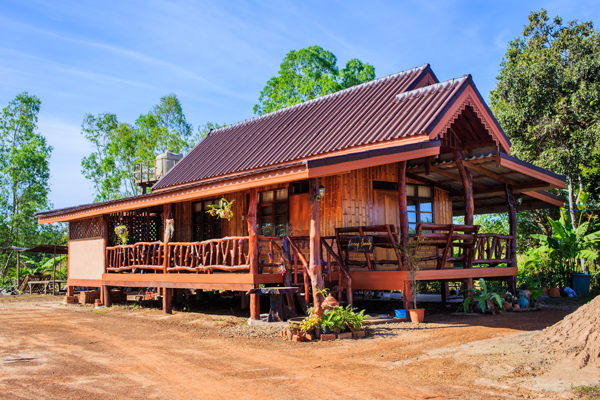 We've been making steady progress on our recycled wood house and forest garden. Some of you might remember my earlier blog post about this project. The primary goal of our homestead is to become largely food self sufficient due to all the chemicals and other unhealthy things in the food supply today. A secondary goal is to have a little country house where we can hang out on weekends and days off. So far we're fairly close to our hoped for budget even though the house grew a bit here and there (don't they always).
I'm so proud of my girlfriend who designed and oversaw its construction while maintaining her full time job. (We split the work on the homestead. She agreed to do the house and I would do the garden.) We added a water tower of recycled timbers to boost the water pressure and ensure a water supply if the pump isn't working. (It's partially visible in the photo above.) The garden was dirt cheap – almost negligible. We still have to build the garage, worm bin and plaster the pump house.
Materials cost for our recycled wood house (most of the wood was free from an old we tore down)
Concrete posts 160
Wood posts 321
Wood structure 1,604
Floor 1,123
Wood ceiling 481
Paint 257
Kitchen 1,283
Bathroom 1,444
Roofing 1,283
Subtotal cost of materials: $7,956 (round off to $8,000)
Miscellaneous $1,000
Total: $9,000
Miscellaneous: Some small things are not on the list, so I've added extra. There's glass in the windows, window screens, nails, a porch slab out back, a few light fixtures and outlets. Let's round it off to $9,000 total. Labor is not included because it was mostly done by our family, friends and extended family. There's 49 sq. meters (527 sq. ft.) of enclosed space. That works out to $184/sq. m ($17/sq. ft.) Not bad. Not bad at all, especially when you consider there's another 61 sq. m. (657 sq. ft.) of covered outdoor living space (where most of our time is spent in this hot climate). So the total space is 110 sq. m (1,184 sq. ft.), which is $82/sq. m or $7.60/sq. ft. Anything under $10/sq. ft. is ridiculously low.
Previous story about our earthbag pump house
My new YouTube channel provides more details about our homestead. Low Cost, Self-sufficient Homestead More videos hopefully coming soon.
My old YouTube channel has about a million hits: Earthbag Natural Houses