Many people don't have easy access to firewood or the tools and ability to cut, split, haul and stack it. Buying firewood may be out of your budget. Here we'll present some virtually free ways of making fuel briquettes and logs at home with simple devices. To make briquettes/pellets/bricks/logs, you can use free materials such as newspapers, junk mail, cardboard, wood chips, wood shavings, sawdust, leaves, pine needles, manure, rice hulls, straw, corn stover and other biomass fibers. The basic process usually involves soaking the materials and then compacting them with a press into blocks.

Actually, there are quite a few different techniques as you'll see in these selected videos. For instance, some people roll newspapers into logs, thus eliminating the soaking, pressing and drying process. Logs like this can be used right away. Not everyone agrees, however. Some say the logs burn best when rolled tightly, soaked and then dried. Apparently the soaking/wetting process melds the log into a coherent mass. (The log roller shown below wets the newspapers as they're rolled together.)
How to make newspaper logs
Making newspaper fire logs another method
It's fun to watch numerous videos to see what's most practical. Making briquettes and logs is a great family project that everyone can help with. In some countries, making briquettes is a small home-based business.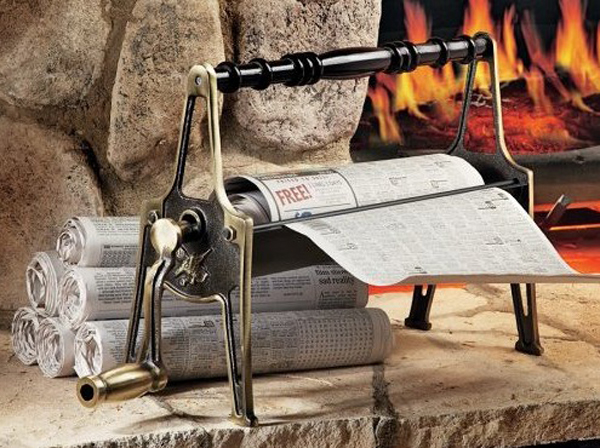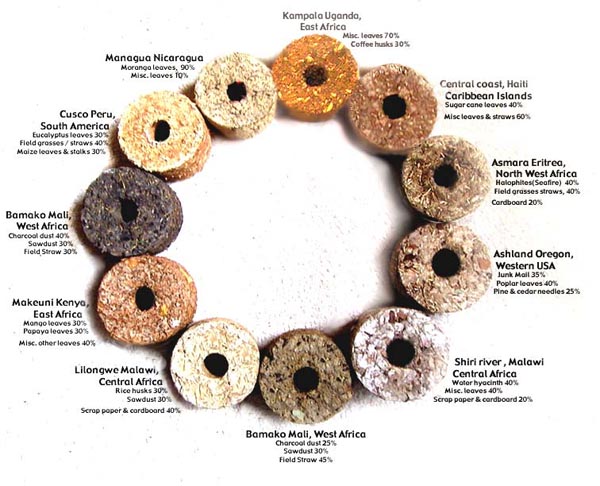 Image credit: Boing Boing.net
Image credit: Joyce Stanley, Legacy Found.org
Homemade briquette press
Burning manure and paper logs for home heat
How to make paper bricks
Briquette maker extraordinaire 2
Homemade briquettes
Leaf log maker
Free heat for your home
Biomass briquette maker