Jerry Collette of www.recycledrice.org is planning to use prepackaged rice hulls that come in 50 lb. polypropylene bags to build an earthbag tipi at the Pine Ridge Reservation. (See www.earthbagbuilding.com/bulletin)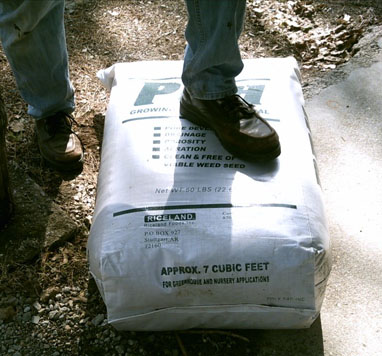 He says that they cost about $6 US each, so it is not exactly dirt cheap, but there are definite advantages. Rice Hulls make excellent insulation, so this tipi should be very cozy year round. Each block can be used immediately without the need to even fill it, so the process of building should go very quickly.
Each bag measures about  11″ x 20″ x 30″ so they are quite large, again adding to the speed of construction and mitigating the cost of the blocks.
I think this is a very interesting idea that may appeal to many people, especially in areas where these bags of rice hulls are available. The block pictured comes from Jonesboro, Arkansas.