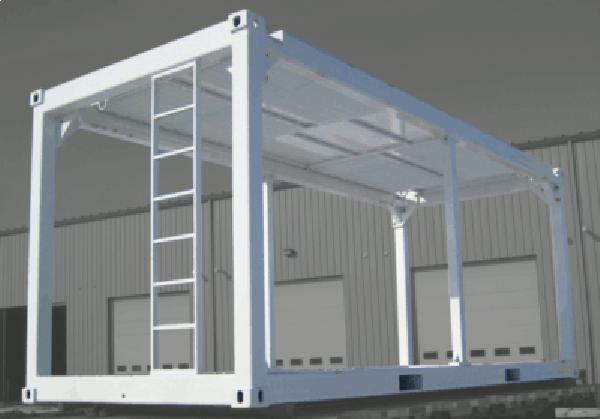 "Shipping containers have their pros and cons. What if you can take the pros and leave the cons behind?
Ever hear of "open frame shipping container"? Basically it is the steel frame without the siding, roof, and floor. A base steel fame to build on that is solid as a …. well shipping container. They can also cost a lot less.
Here is one company I found that embraced the idea. They are building their own frames but you get the gist of it. https://www.treehugger.com/modular-design/meka-world-reinvents-shipping-container-housing.html
Give someone a solid frame and they can bolt/screw on their siding, floors and roof of choice. Saving heaps of money and using more friendly materials. I even found a couple available that are 3.3 meters wide (10 ft). Let the factories do what they do best to mass produce an affordable solid welded steel frame. The frame or base is the hard part of building a house for most people. It would make a lot easier (cheaper) for people to meet code. People have a hard time starting from ground zero so give them a base to build from, literally.
For my own self I have always looked for something portable or movable but not a trailer. It just doesn't fit me. Let's face it, we are and will continue to be a more mobile society in the future. People have built some amazing houses but if they move or sell it they get next to nothing for it. I'll use my own self as a case in point. I bought a house that only had a shower. I did up the bathroom very nice. I put in marble tiles, nice fixtures, a spa bath, heated mirror and underfloor heating. I got some of that back when I sold the house but not all of it. So bottom line it was not a good investment of my funds but I did enjoy it immensely for a while. Bottom line I don't want to repeat that mistake if I don't have to.
So why not make it so you can move your house with you and not one of those POS (piece of s__t) mobile homes. It could be there is an economic turn down in your area you didn't see coming or maybe you are ready to retire to the country or just want to move closer to the parents temporarily as they get older. Point is you can pack up your house and go. Now you may need to hire a container truck and trailer to move but that is cheaper and easier than starting completely over. Plus all the investment you made in your house in both sweat and money stays with you. You can even move to another country. But you might need to convert your 120V to 240V but you can do that for the whole house so nothing else new to buy. You can rent an empty piece of land cheaper than an apartment or house rent.
One more thought I had on the open frame shipping container. You could do your build in your driveway or backyard. Then when you are done you can move it to your initial location and move in.
Many people have an issue with funds when they try to build and maintain an existing residence at the same time. So for a young person living at home could do the build in their spare time at their parent's house as it isn't permanent then move on when it's completed. A doable scenario as I don't think it would infringe on many zoning laws, a home owner association in an upscale neighborhood could be an issue.
You can do anything from earthbag or straw-bale infill to wood. I originally had a thought a long time ago using vertical half round timber, cheaper than dimensional lumber but you need to be sure you have a strong base structure as it gets very heavy when it gets wet. I thought vertical as shorter lengths are cheaper." [Check out T&G cabin siding.]
Image source: Dahlson Industries
I wonder how much customizing they would do? Ex: Floor joists? More studs where you specify?
Special thanks to Cliff, a long time reader, for this great idea. This looks very practical and I think it might catch on. It reminded me of a previous story about steel framed tiny houses.