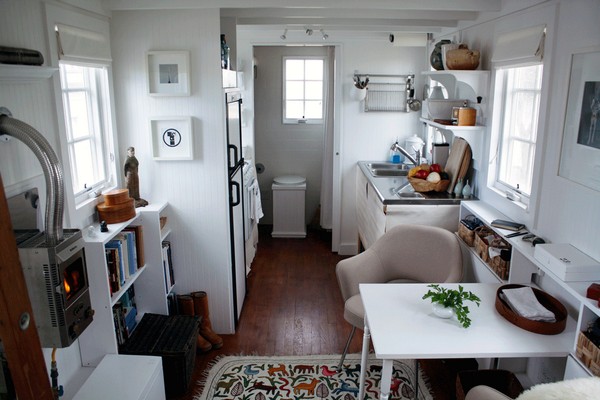 I'm eager to hear what readers think sustainable houses of the future will look like. Please give us your input. In your opinion, what are some exemplary sustainable houses that will guide home design in the future? Key considerations are affordability (hugely important), DIY owner-builder friendly (easy to build), small, space efficient, highly livable, nontoxic, adaptable, renewable energy, extensive use of recycled materials, and of course beautiful and appealing.
Our natural building blog now has over 2,700 blog posts that showcase many excellent homes that fit this category. But just for fun I thought I'd put forth one more example.
The photo above of the ProtoHaus tiny home is an example of excellent design. If owner-built with a high percentage of recycled materials then this home would be quite affordable. For example, take a look at Tiny Texas Houses for inspiration on how to use recycled materials. (Some of their plans are free.) Building your own home enables you to build it just the way you want as well as save a substantial amount of money. Note how well designed tiny houses have all the modern features home owners want while keeping the environmental footprint very small.
This design challenge got me thinking about future sustainable careers for those who live in these mobile tiny homes. There are lots of possibilities since your cost of living would be greatly reduced, and you'd have freedom to move around and try different things. Some people might want to experiment with digital nomadism. Others might want to gain hands-on experience in sustainable farming and natural building through WWOOFer apprenticeships. Once the necessary skills are acquired, you could live temporarily on rural jobsites or nearby campgrounds and help other people build their sustainable homesteads. This type of right livelihood would provide a decent income, travel and adventure while not wrecking the environment.
Search tip: Search our blog by using the Design category for information about home design. Or do keyword searches.