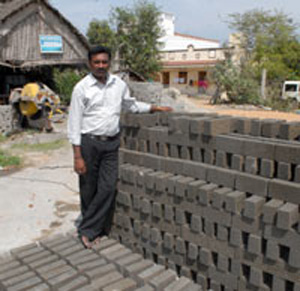 "Innovation: Eco-friendly bricks using rice husk ash
What it does: Converts ash into bricks, preventing it from ruining the enviroment

An advocate of natural farming methods for more than a decade, Kanchipuram-based Gandhi Gopalakrishnan was shocked to see lush mango farmland turning infertile by the dumping of rice husk ash (RHA). "The farmers are deceived by claims that RHA helps the fertility of the soil, when the contrary is true," he says. The high pH content (8 per cent) of rice husk ash spells doom for the soil (ideally soil pH should remain between 6.5-7.5 per cent). "In a paddy-growing and processing district like Kanchipuram, I thought of reducing the ecological damage caused by carbon-rich RHA," says Gopalakrishnan, president of the Natural Educational Environment Agricultural Development Society (NEEADS) that he set up in 2004.
The solution he offered has multiple benefits: convert the hazardous RHA into bricks, preventing it from spoiling the environment. It reduces the usage of bricks made from top soil, and saves trees too, since mud bricks are solidified by burning with wood. Gopalakrishnan leased out a brick factory, bought a worn-out mosaic machine and started manufacturing RHA bricks."
Note: You could probably make the bricks with minimal cement. Rice hull ash is very similar to fly ash from power plants and so I suspect the recipe for fly ash bricks could be used. Ashtech has a recipe on their website for fly ash bricks:
Minimum 30% fly ash (60% ideal)
Cement 5-7%
Gypsum 1%
Sand or crusher dust (stone dust) balance
More at the source: India Today
Ashtech