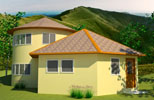 In this unique design, a two story roundhouse adjoins a hexagon. The Hexagonal/Round House features include a large bedroom in the round, a wood stove insert built into a central stone column, and a large loft above the bedroom for use as a home office, etc. 18′ interior diameter roundhouse = 254 sq. ft., roundhouse loft = 248 sq. ft., 20.5′ hexagon = 372 sq. ft., total = 874 sq. ft. interior; footprint: 28′ x 44′

This one and a half story Hobbit House features drop-down stairs that lead to a spacious loft, wood stove heating, and modern kitchen with pantry space for Hobbit food. The undulating thatch roof or living roof is created by varying the knee wall height above the bond beam. 24-6″ diameter with 471 sq. ft. interior, 471 sq. ft. loft, total 942 sq. ft. interior, one bedroom, one bath.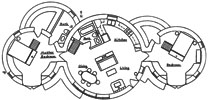 In this Roundhouse/Dome Cluster there is a 2-story roundhouse in the center with either domes or more roundhouses on the east and west. There is a possible third bedroom, game room or home office in the roundhouse loft, 2 baths, separated bedrooms, large walk-in closets, dining area next to the windows, and lots of south-facing doors and windows.

The Roundhouse Studio is perfect for home offices and studios of all kinds, and also as a tiny house. Ideal beginner's project. This studio is one of the simplest, most practical of Owen's designs. Multiple units can be connected if you want to add on later or they can be built as free standing structures in clusters pavilion style. Numerous roof options available.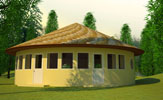 10 meter Roundhouse 10 meters (33′) diameter is the maximum size of a round earthbag structure before needing buttressing. This spacious design features a large kitchen and south-facing window wall for excellent solar gain. 855 sq. ft. interior, 1 bedroom, 1bath

This 1.5 Story Roundhouse features two large bedrooms with spacious closets, efficient kitchen and loft for home office or 3rd bedroom. The inner circular wall is built of recycled brick for strength and rustic effect. The loft has a 3′ circular skylight and a knee wall with view to main living space on first floor.

2-Story Roundhouse This charming roundhouse has everything you need within easy reach on the main floor, and a comfortable bedroom loft above with large closet and seating area next to the balcony railing. 452 sq. ft. interior plus 226 sq. ft. loft, 1 bedroom, 1 bath
2-Story Roundhouse above Survival Shelter It's prudent to have a safe place to go to in case of emergencies, and what better place than your basement. Hurricanes, tornadoes, blizzards and other natural disasters are all too common. While others panic and run for last minute preparations, you can calmly retreat to your basement (through a hidden trap door) that's wisely stocked with everything you need to ride out the disaster.
This intriguing Tower House slopes from 21 feet interior diameter at ground level to 13 feet diameter at the upper deck. Perfect for environments with high winds and good views. 346 sq. ft. interior first floor, 227 sq. ft. upper floor, 133 sq. ft. observation deck, 623 sq. ft. total interior; footprint: 24′ diameter
This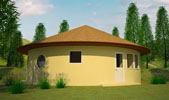 spacious Two Bedroom Round House design features a large master bedroom with desk and walk-in closet, efficient kitchen and south-facing window wall for excellent solar gain. 855 sq. ft. interior, 2 bedroom, 1 bath; footprint: 36′ diameter