Sandbags have a long history of use in flood control.  United Bags, Inc., for example, has supplied sandbags to the U.S. Army Corp of Engineers and the public for 117 years.
Sandbags play a critical role in building and fortifying dikes and levees to protect our communities.  The bags are low cost and easily transported to the site where needed.  They can be filled with locally available sand or soil by unskilled workers.  A few new inventions have come along as potential replacements, but all lack the time-tested efficiency and effectiveness of sandbags.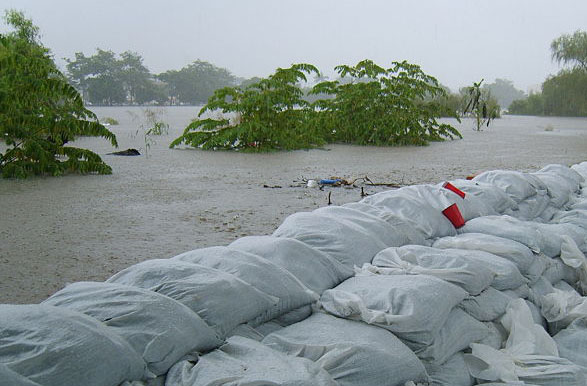 If you follow the news, it almost seems there's a flood somewhere at any given time.  And when it comes to flood control, sandbags are the first choice of defense.  For instance, the U.S. Army Corp of Engineers provided 13 million sandbags this year, in addition to those purchased by communities.
The same properties that make sandbags (earthbags) ideal for flood control – strength, durability, resistance to moisture, low cost, ease of use – also makes them well suited for building houses and other structures.
Floods are an all too common reality, so ask yourself this: In the event of a flood would you rather have a wood-framed house or an earthbag house?
Photo by Huitzil, www.flickr.com/people/7173680@N03
Photo source: www.flickr.com/photos/7173680@N03/1805951815