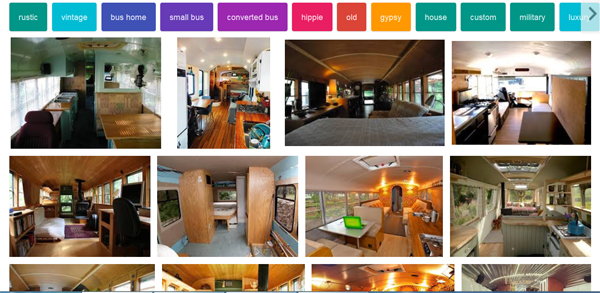 Just for fun, click the following link to see hundreds of interior photos of school buses converted into beautiful tiny homes. This link may or may not be permanent. If it doesn't work then you can search for keywords Schoolie Interiors and find the same thing in an Image search such as Google Images. Depending on the search phrase you use, you'll have hundreds of photos of bus conversions, van conversions, tiny houses, etc. at your fingertips.
The link above has images arranged in categories so you can browse interior images by Rustic, Hippie, Custom, etc. Copy and paste your favorites into a file for later reference. Look closely for features that you really like such as storage systems, window details, etc. This process will greatly help you come up with a practical design.
Thanks again to Richard for another good tip. He said schools typically sell their buses after 200,000 miles. You can buy used school buses for as little as $1,500!!! They're extremely strong and well built, and therefore provide an excellent platform or basic tiny house structure. The shell is complete. You just need to finish it out. This is much easier than building something from scratch. Buses come in all different sizes. Search Craigslist or similar sites to find buses for sale. Please email us your suggestions for blog posts.