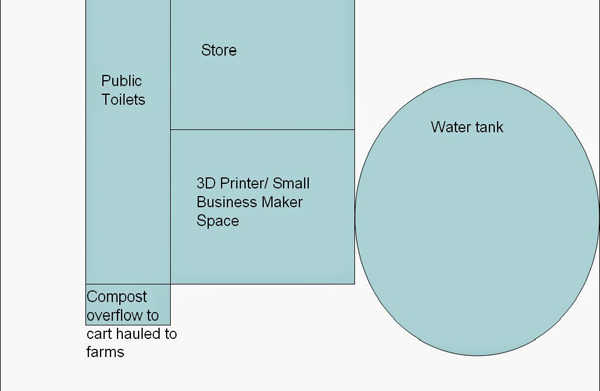 "Toilets, water, depleted tropical soils, and refrigeration are four of the myriad challenges of the developing world. Small fruit, vegetable, and meat sellers lose considerable stock to the sweltering heat. Farmers' fields and drinking water get flooded by water contaminated with human feces. The water taps stop running for weeks at a time forcing people to drink fetid water. Consumers buy dubious products and suffer increased rates of sickness to top off the other challenges of poverty. Another challenge is processed goods, necessities such as soap or washing basins, cause money from a poor area to flow out to large foreign businesses. All of these challenges can be met by a community store.
We start with a public methane toilet. The methane can be captured to produce electricity for the rest of the building. The compost would be hauled off the nearby farms. Organic fertilizer availability is essential for coastal agriculture development as, according to the World Bank, only 11% of coastal households currently use fertilizer which puts them as least developed region in Kenya far behind the 72% Kenyan average. It is also located near a reef and organic fertilizer has slower leaching rates that chemical fertilizer. A phone based farm to store network can be used to connect the farms to the stores. Increase food security and protect the reef with toilets.
The methane can be used to power refrigeration, lights, water filter system, and a 3D printer for the store. Someone should invent a methane powered 3D printer. The front of the store would stock locally produced food and goods. Refrigeration would dramatically increase shelf life of locally produced fruits and vegetables.
The large roof of the store would catch rain water. The electricity would run a filter to clean the water. A large tank would collect it."
More at the source: Growing Futures Kenya