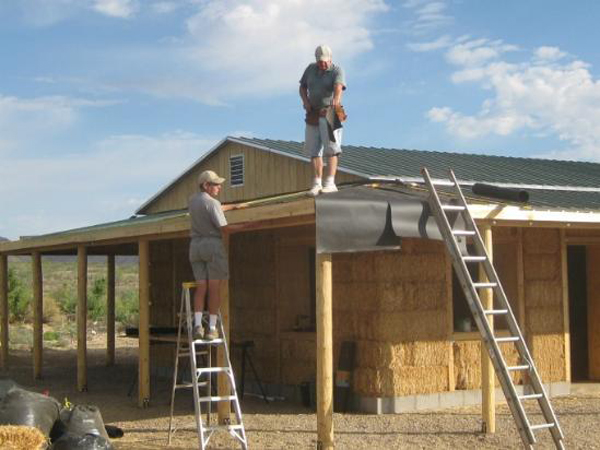 "Climate and weather in the high desert of Arizona are harsh. Granted, we don't have the severe cold of northern states, but monsoonal rains driven by 50 mph winds and intense sun that will burn skin through a long sleeved shirt can be tough on a building made of straw and adobe clay.
To counter the effects of the wind, we built our house with its back to the prevailing winds from the west and put only one window in the back wall. For rain and sun, we opted for a 360 degree porch or patio. Choose the name you like. Basically it's an extension of our roof 8' past the outer wall and floored with flagstone. With this overhang, our adobe plaster walls were protected from all but the most severe driving rains and our windows were shaded from the intense Arizona sun. The overhang also gave us a shady spot out of the wind to enjoy our mountain views any time of day. All good things!"
More at the source: Grit.com
Thanks to Carroll for this tip. This looks like a good magazine like Mother Earth News.