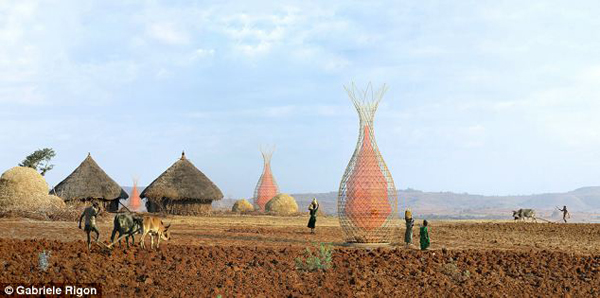 The 30ft high bamboo 'flower basket' that can pluck drinking water from thin air
• Structures use condensation to take water from the air in morning fog
• Can be built by villagers and transported to most needed areas by donkey
• Designed to be used in Ethiopia where wells cannot be dug
By Mark Prigg
A radical 30ft high bamboo 'flower basket' could help give water to underdeveloped areas, it has been claimed. The structure harnesses condensation from the air using a specially-developed material. Helping to end thirst: WarkaWater is a project conceived for the mountainous regions in Ethiopia, where women and children walk several hours to collect water. The 9 metre tall bamboo framework (mock-ups pictured) has a special fabric hanging inside capable to collect drinkable water.
WarkaWater is designed to provide clean water as well as ensure long-term environmental, financial and social sustainability,' designer Arturo Vittori told Wired.
More at the source: Daily Mail
Thanks to Jerry for this tip.