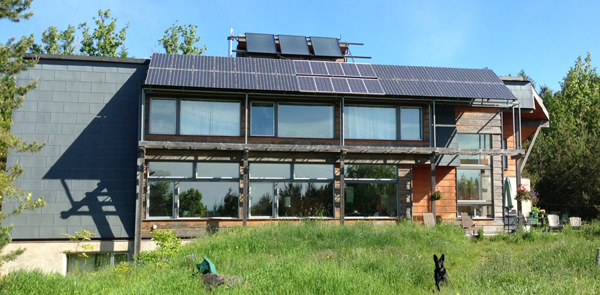 "From the moment you arrive at this luxurious, secluded and supremely natural residence, you will be surrounded by 9 acres of breathtaking walkways, forest, open skies and open fields. Eco-chic style meets passive solar architecture in this masterful award-winning sustainable home built with natural materials. Everything is state of the art, from the exquisite light fixtures throughout and heated floors, to the open concept kitchen, stocked with all new amenities. The expansive and private deck is the best room in the house and the perfect place for sunbathing, entertaining or barbecuing. This is a one of kind solar powered home with total privacy.
Natural Living and Solar Village Documentary Video
Interested in learning more about our house, how it was built, and about the people that made it happen? We've produced three documentary videos over the years to make that quick and easy. Please visit The Solar Village web site store in order to buy the Natural Living, Solar Village and Hope for a Change: Renewable Energy documentary video DVDs. Or, see my YouTube channel wilsonjd9 for a quick preview of each of these documentaries that explain how we built our house, how Germany achieved their renewable energy revolution, and how Canada could become 100% powered by renewable energy.
Eco-Features
On the roof are three large solar thermal panels that provide hot water heating for both domestic (showers, baths, and taps) as well as in-floor heating systems. A large awning on the south face of the house above the upper level windows is composed of more than 30 solar photovoltaic panels that are capable of generating more than 6.2 kW of electricity, frequently supplying more than is required to operate the house in the spring, summer and fall. Of course we are Bullfrog Power customers for the electricity we do consume in the winter, ensuring we are 100% powered by renewable energy.
Green roofing, literally a living growing roof encompasses the entire roof surface of more than 1,000 sq. ft. providing substantial cooling service in the summer while improving insulation in the winter, not to mention reducing rain water runoff. The north wall structure is composed of straw bales (from a local farm) with a natural sand mixture stucco surface, providing a "breathing" wall for improved indoor air quality, eliminating the need for a mechanical heat recovery ventilator, and providing as much as R50 insulation in a renewable building material. Other important features include sahara architecture stack effect air cooling for the summer, passive solar design, and high quality fibreglass framed windows."
More at Wilson Natural Home.com