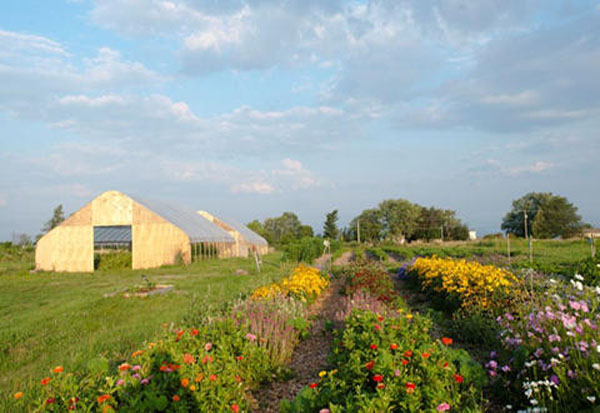 "Ever wish you could live at your CSA (community supported agriculture)? Or move to a neighborhood where everyone is as excited about fresh, healthy food as you are?
All over the United States people are embracing local food production in an exciting new way. Called 'agrihoods,' this new type of neighborhood serves up farm-to-table living in a cooperative environment. Instead of being built around a pool, tennis court or golf course, these housing developments are centered around a farm, often using the sweat-equity of residents to create a sustainable food system for the entire community.
Of course, community gardens, urban agriculture, and cohousing communities are nothing new. But as the rapidly growing crop of agrihoods demonstrates, families are eager to reimagine these collaborative efforts in a new setting–often at the same or lower prices than a traditional suburban neighborhood.
Although the term is freshly minted, agrihoods are already popping up all over the United States. We've rounded up a dozen established or planned communities so you can learn more about how this trend encourages sharing, collaboration, and a healthier, more environmentally-friendly diet.
4. South Village
This community was designed to combine two of Vermont's most cherished traditions: open space and village living. The agrihood features paths for cycling and cross-country skiing, community gardens, and a 4-acre organic farm that plays a vital role in connecting South Village residents to local food production via a cooperative CSA. Unlike many of the farms we've mentioned, The Farm at South Village boasts a one-acre, 528-panel photovoltaic solar array that produces150kW of carbon-free electricity for the South Village community, the Farm, and the City of South Burlington itself."
More at the source: Shareable.net
This could be the ultimate housing option if done correctly. Imagine living in a small community with like-minded folks with open space, large community garden and fruit trees, bike paths, shared facilities, car sharing, farm-to-table organic restaurant and health food store, etc. The most important aspect is offering affordable housing. The ideal would be a mix of tiny, small and modest sized sustainably built homes.