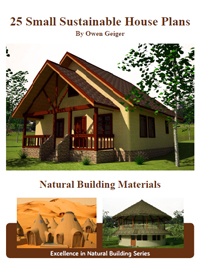 25 Small Sustainable House Plans provides a fascinating selection of innovative house plans, along with an overview of the most efficient natural building methods – strawbale, earthbag and sustainably harvested wood. Go beyond the basics and learn how to use free or low-cost natural building materials to build your dream home free of debt, with the least amount of time and labor. Get the lowdown on the best natural building methods — what really works and why.
In this book:
* 25 low-cost, DIY, sustainable house designs, many of which can be built for less than $10,000
* 118 drawings of low cost, alternative building ideas
* Roundhouses, domes, hexagonal, pavilion style, organic and rectilinear designs
* Designs can be combined to create unique custom homes
* Earth-bermed, earth-sheltered, passive solar and superinsulated house designs
* Complete plans and specifications available for purchase as PDF downloads
* Zero-energy houses and energy-efficient construction
* Overview of the most efficient thick-wall natural building methods
* Earthbag and strawbale greenhouses
* Cool pantries and why every house should have one
* Free 85-page Earthbag Building Guide with each house plan order
This book is for all those who want affordable housing, to save energy and/or live off-grid, build small and lessen their environmental impact. This book provides detailed house plans that are suitable for a wide range of climates using the most efficient natural building methods and materials such as strawbale, earthbag building and sustainably harvested wood. In addition to innovative house plans, there are photos, detail drawings and expert advice on what works best, in a price range affordable to almost everyone.
By Owen Geiger – author of Earthbag Building Guide, and co-author of Earthbag Building.com, the largest, most comprehensive website on building with earthbags, and Natural Building Blog, the most popular blog on earthbag and other natural building methods. Geiger has the largest portfolio of earthbag house plans anywhere – curently over 130 house designs – at Earthbag House Plans and Dream Green Homes.com.
This new PDF ebook is now available online from a high speed download site for $20. Click here for ordering information.