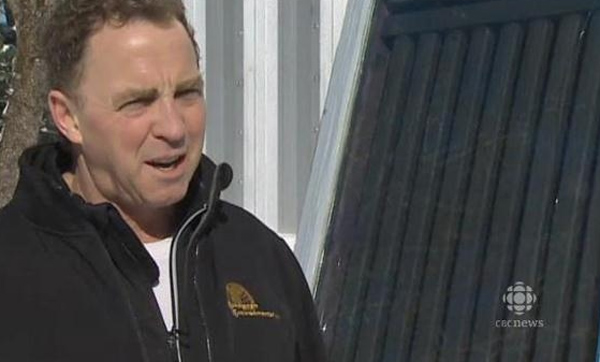 A Fredericton-area man says his heating bills are decreasing thanks to a solar furnace that cost him $300 to build.
Randy Buchanan, of Lower St. Mary's, modified plans he found online to build the heating unit from soda cans, aluminum eavestrough downspouts and an old double-pane window.
Buchanan is an environmental consultant and depends on heat and clean air to raise rainbow trout for his aquatic toxicology studies.
He began looking for heating alternatives after his bills for heat and an air exchanger soared this winter.
Now, with air circulation from a small exhaust fan, Buchanan says his solar furnace — attached to the southern side of the building — works like a charm.
The air comes in at 5 C, and comes out at 38 C, he said.
"I think it's something that everyone should have affixed right to [their] house. I think it should be part of your design," said Buchanan. "It would be very easy to do. [With a] south-facing house like mine, it's perfect."
Read more at the source CBC.ca
Best site for plans like this: BuilditSolar.com
Thanks to Zana for this tip.