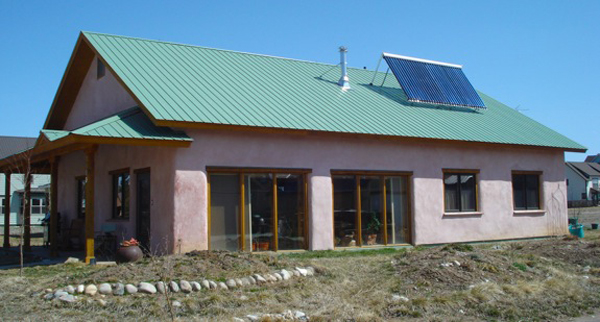 "This passive solar straw bale house is situated in one of the coldest places in the nation.
Gunnison, Colorado, ranks within the top 5 cities with the average coldest temperatures in the United States, yet the insulating properties of the straw bales make this an efficient and comfortable passive solar home. An amazing aspect of this house is that it is made primarily from all natural materials: straw, wood and various mixtures of adobe mud, including mud-plaster, cob (free form clay with straw) and adobe bricks.
While Gunnison typically has frigid below-zero temperatures in the winter, it also has over 300+ sunny days out of the year, making a passive solar design ideal.
This passive solar straw bale home radiates a quiet warmth, while its thick walls give a sense of strength and security. The absence of the fans and motors associated with forced air heating create a quiet atmosphere as the floors radiate heat. Even on a cloudy day, the straw bale home was comfortable and warm."
More at the source: Green Passive Solar.com