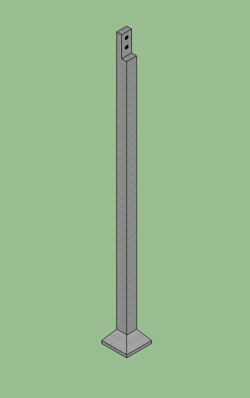 Most of the housing solutions we discuss here at Natural Building Blog utilize ultra low cost materials such as soil for earthbags, adobes or CEBs, poles from local forests, straw bales and other locally sourced sustainable materials. Houses built like this are very strong and durable. They're primarily for permanent housing. But what if you need temporary housing to live in while your main house is being built? While a mobile home/camper would suffice, consider the benefits of building temporary housing. The temporary housing solution outlined here is designed for speed and ease of construction at low cost.
Your first thought may be why concrete posts? They're not affordable or sustainable, right? Actually, it depends on the situation and where you live. We've already discussed various methods of building with wood posts. (Use the search engine on the right to locate previous blog posts.) This blog post will examine using concrete posts, because wood posts are not always available or practical. Larger diameter wood is becoming increasingly scarce and expensive, and some areas have severe termite and ant problems, and high rainfall that can quickly rot most woods. For these reasons and more, concrete posts have become very popular, and many hundreds of thousands of structures are built this way in tropical climates.
Some additional benefits of concrete posts:
– Numerous sizes, lengths and designs readily available in certain countries. Where they are popular, you can often find a small shop (local cottage industry) down the road that will make just what you need at reasonable cost.
– Can be used immediately. No need to harvest and transport wood long distances, peel the bark, wait for wood to cure, etc. This also reduces local logging.
– Very little excavation required. Dig small post holes about 12"-16" square by 18" deep.
– Built-in footer adds strength and stability, and can eliminate need for separate footer.
– Notches and holes cast in the concrete make it easy to attach beams with bolts.
– Can be sold later for about the same as the original cost or reused on another structure on your homestead.
– Can last for decades since they are rot and insect proof.
One possible design for a small, simple temporary house in a tropical climate:
– Set concrete posts about every 8' apart.
– Bolt on beams to top of posts (can be milled, roundwood or recycled wood).
– Shed roofs are the easiest and fastest to build. Frame the roof so one side is higher.
– Bamboo or small diameter roundwood can be used for the roof and other framing members.
– Small diameter roundwood trusses can be pre-built to speed construction.
– Add wood or bamboo framing between posts as needed for windows and doors.
– Bamboo mat is one low cost, sustainable option for covering walls in tropical climates.
– Metal roofing or thatch panels are fast, lightweight and easy to install. The metal roofing could be reused on another building.
A 12'x24' temporary house like this could be built in less than one week with two workers. Costs will vary considerably depending on where you live, but here's one rough cost estimate:
$200 thatch panels
$150 concrete posts
$100 wood poles
$100 bamboo mat
$50 bolts, fasteners and miscellaneous
Recycled door, windows, hardware
$600 total