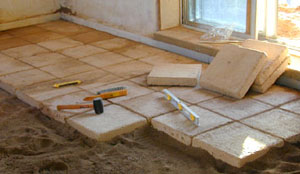 Readers often ask our advice about the most practical floors for do-it-yourselfers. If you're building your own sustainable home, I suggest building floors on grade. This eliminates the need for posts, beams, floor joists, subflooring, toxic glues and other materials used to build typical wood framed floors.
The photo above from Solar Haven.org illustrates one of the easiest, lowest cost ways of installing a floor. The details will vary somewhat according to your climate, but the basic procedure is to:
1) provide proper drainage away from the building in all directions
2) insulate under the floor in cold climates – add scoria, etc. as necessary
3) add moisture barrier of 6 mil plastic sheeting – "6 mil poly" – to prevent wicking of moisture
4) add layer of clean sand
5) set adobe blocks tight against each other, tap in place with a rubber mallet and check for level as you go
6) sweep sand between in the joints until they are full
Be sure to check out our previous blog post about Eleven Earth Floor Methods. This is perhaps the best overview of the various ways of making earth floors.