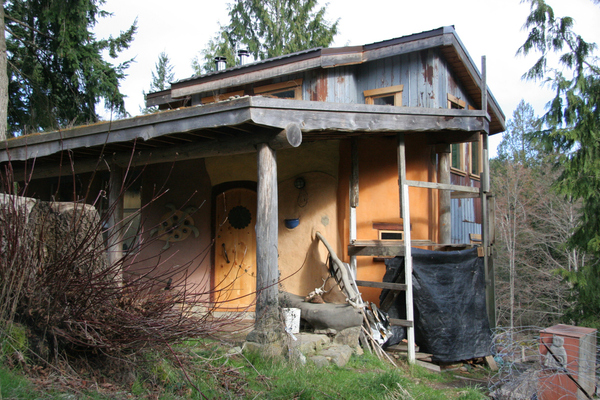 Reader question: I am hoping to start building a home in the Pacific Northwest this summer. I have been reading EVERYTHING I can on building with cob, hyperadobe and strawbales, and am trying to come up with a solution that I can afford and build on my own (I am recently divorced with four kids and no family or friends available to help build).
Owen: Keep researching natural building in your area to help determine what works best. I just did a quick search and found the wonderful photo shown above at Gather and Grow – Natural building on Vancouver Island.
Note how the exposed walls are recycled/rustic rough sawn wood, and the protected area under the porch is straw-clay and earth plaster or cob. This home is fairly small and reasonably practical to build with minimal skills.
Choose materials that provide good insulation. Earth (cob, etc.) has extremely low R-value, which means nearly zero insulation value. Straw has good R-value but poor resistance to rain, especially blowing rain, so straw bales are risky for you. The 'best design' is often a balancing act of various materials. This is called hybrid building.
Consider living in a yurt, skoolie or other simple structure as you build your home. Allow plenty of time for gathering free, salvaged materials to keep the cost low and add character.