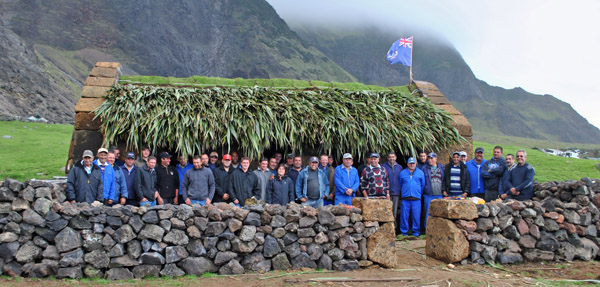 "Since all Tristan houses have now been housed with zinc, it was decided to build a replica of a traditional thatched house typical until 1961 and which continued until the late 1980s but were then replaced by various solid roofing. This house will become a live Museum for visitors but also a monument for the younger generation to see how their ancestors lived so many years ago.
The "Thatched Tristan House Project" began in January 2009. Retired pensioners were employed to build the house as they had the most expertise in soft stone building. The work gang consisted of Herbert Glass, Ches Lavarello, Donald Hagan, Piers Hagan and Anthony Rogers who were later joined by Eric Glass and Joseph Green. Unfortunately Piers Hagan had to retire early from work on the house for health reasons. As well as the men mentioned, other Government and Factory Workforce have also helped with work on the house when required.
A site was picked for the house in the East Field beside the 1961 Volcano. We wanted a site which was away from modern Tristan surrounded by open space, livestock and the noise of the Big Watron (small stream) running nearby."
Read more at Tristandc.com
(lots of photos of each step)
Interesting background story about Tristan da Cunha, a remote island in the Atlantic.
Thanks to Leslie G. for sending these links to me.