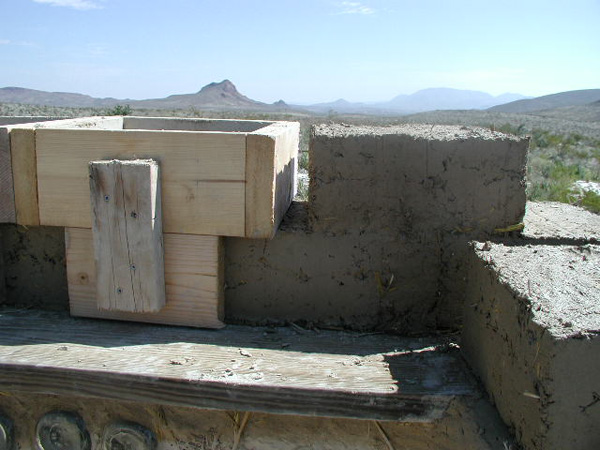 The blog post the other day about cast in-situ adobe was quite popular and so let's explore a variation of this method developed by Abe at Vela Creations.com. I consider Abe's Tblocks a major contribution to the natural building movement – even good enough for a major magazine article. Keep reading to learn the details.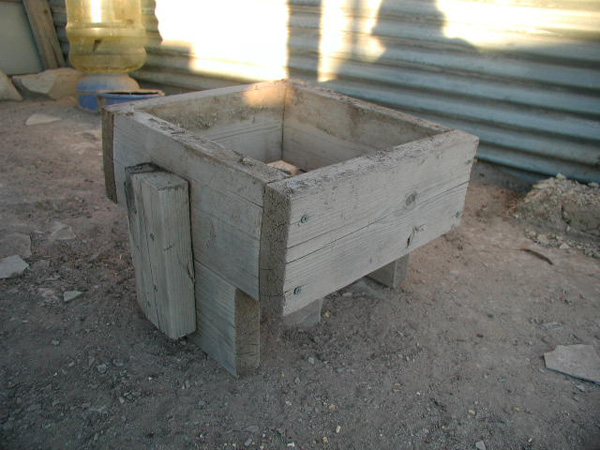 Advantages include no need to buy forms with his method. He made the forms with scrap wood. The interlocking feature creates a strong wall, even though it's just made with mud. One option for those in wetter climates is to add soil stabilizer to the mix for greater moisture resistance. (Search our blog for keyword 'stabilizer' to find previous blog posts.) Now, let's hear Abe explain how he's been building with a cast in place adobe method he calls Tbricks.
"We built our first home with cast in-situ adobe using homemade forms that bolt together. Two people can set them up in a few minutes and pop them off just as quickly. We made the form come apart from the sides, so we could use remesh to reinforce the wall.
We eventually migrated to a more refined version, called the T brick. Info on this page: http://velacreations.com/howto/adobe-walls/
With regular adobe construction, you mix it, make the blocks, and then cure the blocks for 28 days. Then you make the house. With Tbricks, you pour right on the wall and they cure in place. So you save at least 28 days. You also don't have to lift the material multiple times, so you save a bit of your back, too. The mixing and pouring will be similar time for both methods.
The Tbricks are faster than bigger forms, like the FORMBLOCK system, because they just slip off after a few minutes after the pour. This also allows you to have fewer forms, because you don't need enough to make a whole level, just a few bricks.
We liked the method and tried different sizes. It's deceivingly simple, so you don't realize the potential until you play with it a bit.
The best form for our adobe was an 8″ thick course, using 1X8 lumber for the form. This makes a 2″ gap between bricks, which you can still fit a hand into to pack the material down. This was the tallest brick that enabled the form to be lifted off a few minutes after pouring without the mud slumping.
Width is dependent on climate, usually 12″ is sufficient. For length, the best way to use this is to make the Tbricks (plus gap) a standard size so that each course is a full set of forms. 1ft or whatever is easiest, 18 inches was the max before we saw the form boards bow a bit. You need to pack the material well in the form.
I never made corner forms, but it could be done. We just used a few scraps to do a quick corner, again, just holding the mud for a few minutes, until it could hold its own weight. Sometimes, we would just stand there holding the corner boards ourselves for a few minutes as we're taking a break.
It needs to cure for a month or more, that's really the only drawback. [Note: this time frame could be shortened if you use a stabilizer.]
The T brick molds start out upside down for the first layer. For the next layer, shift 1/2 a brick so that the form is centered over the gap. Pour the brick, wait a few minutes (max 5, I think), then slip the form off. If you figure out your working rate, then you make enough forms that when you pour the last, the first is ready to slip off. Just a guess, this is probably 6 forms or so. The forms move like a caterpillar over the whole course. The forms self-level somewhat, because the side flaps keep it going straight up.
We never did more than 1 course a day, but it could be done, depending on your mix. 2 courses is probably the max per day. We would stick our fingers in the top of the brick to make it really textured to "grip" the next course above.
No cracking, it's simple to do, and you only need a few forms to get started.
I like it just about as good as anything else. For people that have adobe at or near the building site, it would be easy to knock out a decent room in a week or so. We always did a draining gravel trench foundation with a rock stem wall for adobe, but it's pretty flexible to fit whatever foundation/site prep you do.
I think the little building in those photos, which became our battery/power house on that place, cost way less than $100. In fact, just about everything on it was scavenged from surplus or junk sources in our area. I bet we had less than $20 in that.
Here's more photos of it: Flickr
I still have those Tbrick forms, but I haven't ever used it again, because we don't have an adobe source here. Those forms are now some 13 years old, and could be used to build a house tomorrow, if needed.
In-situ adobe is the perfect material for someone who has no money, but a little time and effort with adobe nearby. It's a forgiving material that goes up faster than cob (because the drying/setup times) or regular adobe (which has several months and lots more lifting/moving bricks).
Also, we put up more photos of the Tbricks and also the other styles, which is similar to the formblocks system. These came apart from the sides, but needed a bit longer to set up, but it allowed us to reinforce the wall easily (probably not needed)."
Thanks,
Abe
Vela Creations.com