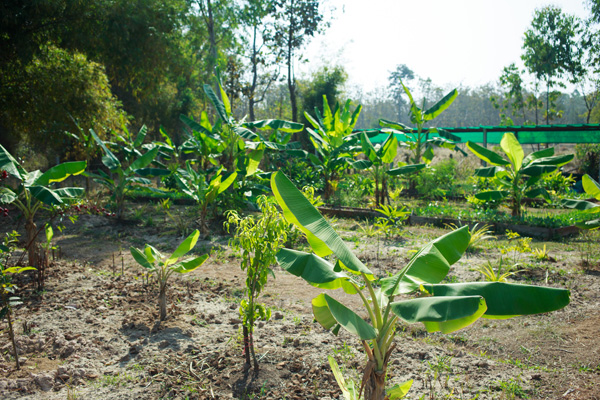 People have asked about our lack of compost piles and bins at our new homestead. Here's an overview of the composting method we're using on our forest garden. Compost happens no matter what approach you use. We prefer no till gardening — get out of the way and let nature take care of things. Simply spread soil amendments on the garden as time and money allow and then let it break down naturally. The following article from Dave's Garden explains the process in more detail.
"I have had the ugly compost bins made from wooden pallets, the worm bins, the big mounds and piles in the back yard, the huge round hog wire bins and so on. I've turned with pitchforks, concerned myself about heat, moisture and all the elements of cooking perfect compost and here is my personal and honest assessment of it all. Compost bins aren't pretty and the textbook cooking compost method takes too much work, too much time and leaves me with too little product to ever make it worth my while.
After reading Lasagna gardening and seeing how the most perfect compost in nature is made by slow and gradual decomposition of leaves underneath a canopy of trees, my philosophy has shifted to a "feed the soil, not your compost bin" mentality. I compost in place and let the gradual decay of organic matter feed the teaming microorganisms and worms. The heat created in a compost pile is energy transferred and lost to breaking down the organic matter to it's smallest form, instead of letting that energy transfer gradually and more usefully in your soil.
I'd much rather let nature do the work and I get all the rewards for it. All of the organic material that would have been added to a compost bin is now composted in place. Simple, easy, wonderful for the soil, great food for the beneficial organisms and your worms, easy on your back, less work, no worries about heating and right moisture contents. Compost happens whether you work real hard and baby your pile or lay it down on the soil and walk away. It happens better if you walk away, get out of the way and let nature do it's job all by itself.
For those who still don't want to believe… fine.. you keep that pile turned and fed while I go tend to my garden."
:)
Susan
Read more: Dave's Garden
Owen: While compost bins can work great on a small scale, it doesn't make sense when you scale up. In our case, we would need a giant space just for making compost if we did it the traditional way. Our forest garden is about 600 square meters (6,500 square feet). That's not including the kitchen garden and all the trees on the other half of the property. Not only do we not have a large space available for making compost, it would be a massive amount of extra time and work turning and managing compost piles. We prefer to use our time more productively. Along the same lines, our worm bin is on hold as we assess the situation. (The worm bin was one of my pet projects that I wanted to build right away near the beginning of the project.) Now I'm glad we waited before building it. We're already seeing worms appear naturally as we improve the soil. I saw a giant earthworm the other day that was over 12" long. Let's hope these guys multiply like crazy!