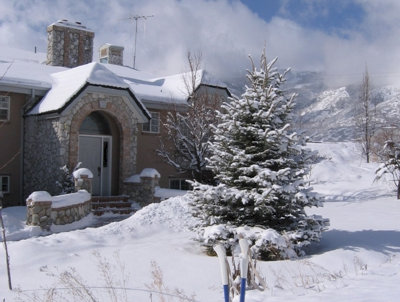 "Located in the cooler central Utah climate at 6,000 foot elevation, the Allan's solar home integrates at least ten different forms of solar, including: trombe wall, solarium convection, photovoltaic cells, propylene-glycol heat exchange, eutectic salt chamber, berm insulation, black chimneys and under-ground intake for passive solar air conditioning, and dehydration of food."
Excellent, must see video about one of the most famous solar homes.

"Twenty years ago, my parents began construction on one of the most amazing solar homes in the world in Fountain Green, Utah. I count nine solar principles involved, two of which are active, with the remainder being passive.
Located at an elevation of 6,000 feet, in what is commonly thought of as "ski country", with winter temperatures dipping as low as -20 ºF, the home does not have a furnace, but is heated by a combination of solar concepts compiled and designed by my Dad. My dad said he doesn't remember a single time in which the home has gotten cooler than 50 ºF."
Read the full article at the source: PESN.com