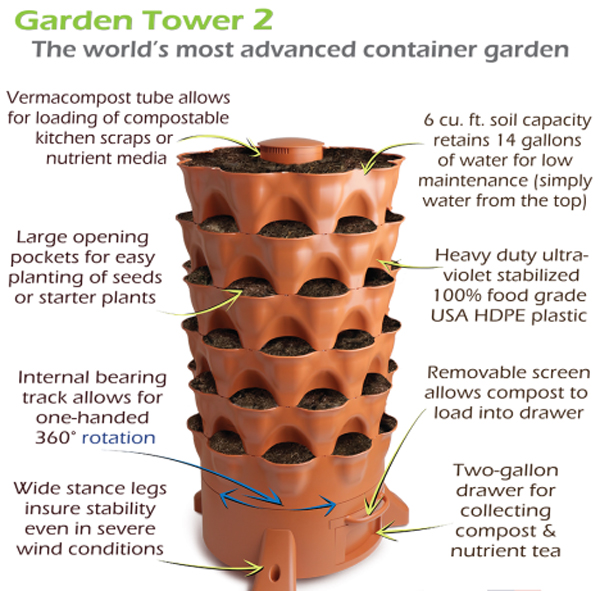 I've seen garden towers gaining in popularity over the last two years or so but didn't pay a whole lot of attention to them because of concern about chemicals leaching from the plastic. Richard, a long time reader, explained how a whole garden of closely spaced towers would produce a huge quantity of food in a small area such as a backyard garden where space is often limited. Instead of using plastic, the planters could be made out of safer materials such as terracotta, ferrocement or metal at far lower cost.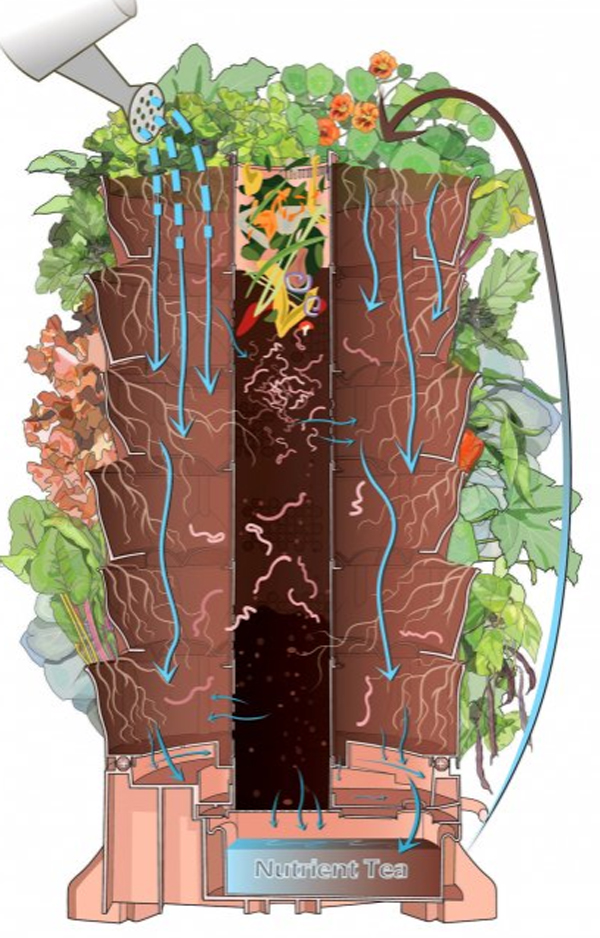 I like the design shown here from the Garden Tower Project website (link below). If you like the idea, the easiest solution is to buy pre-made plastic towers. I would prefer to make something similar with metal, ferrocement or terra cotta rings stacked to chest height or so. Using natural materials would guarantee a safe, long lasting product. Homemade planters/towers would also save a ton of money, especially if you need a lot of them.
Another option is to build garden towers out of recycled wooden pallets. Using standard size pallets cut down the center would give you a tower about 20"x20" square. Other people have made planters and towers out of buckets, rain gutters, steel mesh, flower pots, laundry baskets, grow bags, milk crates, pop bottles, etc. Some planters are flat for growing plants on walls and fences.
Milk crates lined with fishing net would create a stable, easy to make planting tower. I priced out buying good quality milk crates and finishing the tower with new components and estimate the cost at around $90-$100. That's substantially less than $350 for factory made plastic units. But I probably wouldn't make a milk crate tower because it's still a bunch of plastic and looks ugly. It's tempting though because I found some strong, large size milk crates with grid reinforcing that would make cutting and spacing out plants easy. I could fit 26 plants per crate. That would be over 100 plants in a chest high garden tower, plus plants on top. A far easier, lower cost option is to stack buckets with planting holes cut on the sides. Larry Hall explains the concept of air pruning in this excellent video.
What's the best way to make a garden tower without plastic? It seems easiest to roll a sheet of steel mesh into a cylinder and then weld or tie the edges together. This method would be fast and efficient, easy to create whatever size you want, and the mesh would naturally air prune the roots. Depending on the size of mesh used, you may have to line the inside with fishing net or equivalent to help contain the soil. Add perforated drain pipe down the center for the compost and worms. This type of planter would be quite attractive if completely covered in plants, as well as long lasting.
Another good possibility is to make ferrocement garden towers. One option is to use cardboard barrels wrapped in plastic as reusable forms. 1-1/2 barrels high would make towers about shoulder height. Use 1/4" hardware cloth or equivalent for the mesh. You could make protruding curves to help hold the soil (like in the photo above). A mortar sprayer would greatly speed the plastering process. Add spacers between the mesh and form to strengthen the plaster bond. This method would create very attractive garden towers that would rival commercial brands. This is a good home-based business idea. Make one or two planters a weekend as time and weather allow. Even high school kids could do this.
Image source: Garden Tower Project.com