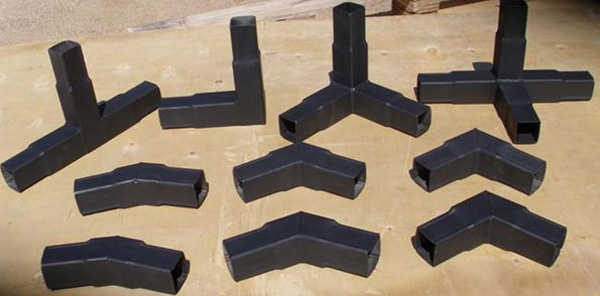 This email exchange is from Cliff, a long time reader from New Zealand who's designing a strong, lightweight tiny house that will meet strict building codes and withstand earthquakes. The cost of labor is very high there so he's looking for do-it-yourself options to save money.
Cliff's previous plan was to buy a factory built Open Frame Shipping Container. This wasn't practical so now he's thinking of building something similar with standardized connectors.
Cliff: Build your own steel frame. You don't need to have it made for you. The weakness in a building as I understand it is at most likely your connections points. You can order steel connectors from All Steel Shed Frames.
Owen: I like this idea a lot. It gets around the high cost of labor. It will work if they're affordable and if you have some basic tools.
Cliff: I look for things that have the least labor built into them to keep costs down. You are paying someone else to do something for you and they normally don't do it cheap. I also look for things that are mass produced to stay away from custom made costs.
They do custom fabrication as well. I would think you can make any frame you want with their existing connectors. There might be some custom tube lengths but that shouldn't be a problem.
I learn towards assembling something rather than building something. Assembling normally implies I can disassemble it and is repeatable. Whatever I put up may never move but I like to have that option in back pocket even if I never use it.
Owen: Build a standard size unit like we talked about earlier so any trucking company that handles shipping containers can easily load it up and haul it away if you ever want to move. Try to buy a pre-approved steel frame kit that's engineered by the supplier to save money.