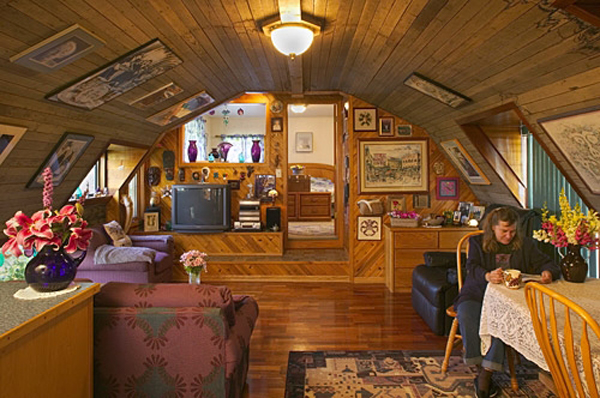 Steel quonset structures or 'culvert homes' are usually not rated for underground residential use. From what I've heard, most quonset hut manufacturers will not sell to anyone who intends to bury the structure. Covering a building with earth adds enormous weight on the structure and manufacturers don't want any liability issues in case of collapse. This is unfortunate because quonset structures are well suited for underground homes, rootcellars and storm shelters. For one, they're quick and easy to build. The main step involved is bolting the arched sections together with cordless drills.
If you're interested in building something like this, I suggest finding the strongest quonset you can find and then consult with an engineer on the loads it can carry. There's a good chance additional reinforcement will be recommended. Offhand, I can think of four general ways of reinforcing quonset structures for underground use.
1. Put concrete reforcing mesh (remesh) and concrete on the outside. This method is fairly common and may be the easiest approach for most do-it-yourselfer owner-builders.
2. Add mesh and spray shotcrete on the inside of the quonset.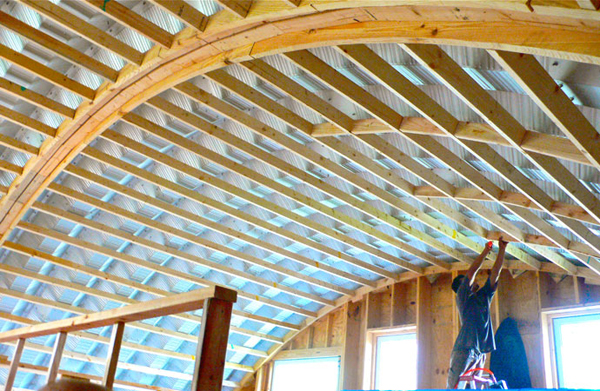 The next two options will likely require supports perpendicular to the beams or trusses. Hire an engineer to do the necessary structural design.
3. Interior wood framing (see photo above). Wood is easier for owner-builders to work with than concrete and steel, and so this option has good potential for those seeking to bury or add earth-sheltering on their quonset structure. Wood framing also makes it easier to add plumbing, electrical, insulation and finish the interior (paneling, sheetrock, etc.).
4. Weld custom trusses with girders on top to reinforce the structure. This would get expensive unless you do your own welding and have access to affordable materials. Some quonset manufacturers may sell trusses and girders for this purpose. Most likely you'd have to either do the work yourself or buy from a local shop.
Note: If you can't find thick steel quonsets that are strong enough for burial and don't want to use the other options listed above, then consider buying concrete culvert pipe.
Also consider orienting a quonset so it's long axis is east/west. Add a greenhouse on the south side (in the northern hemisphere) so the home is bathed in sunlight and warmth.
Another option is to join quonsets side by side with south facing window walls to maximize solar gain. This configuration would look sort of like the letter M in the McDonald arches.
Image source: Squidoo
Image source: Hatchworks
10 Really Cool Quonset Homes
Kelly Hart's insulated carriage house (includes a nice workshop and large loft with office)
Quonset Hut: Metal Living for a Modern Age
Montana Quonset Home buried in a scoria hill (talk about an insulated home!)
The Culvert House