So far very little has been written about earthbag basements. Earthbags are suitable for basements and other underground applications such as cisterns and rootcellars. Round or curved designs are inherently stronger than long, straight walls, which require reinforcing columns or buttresses.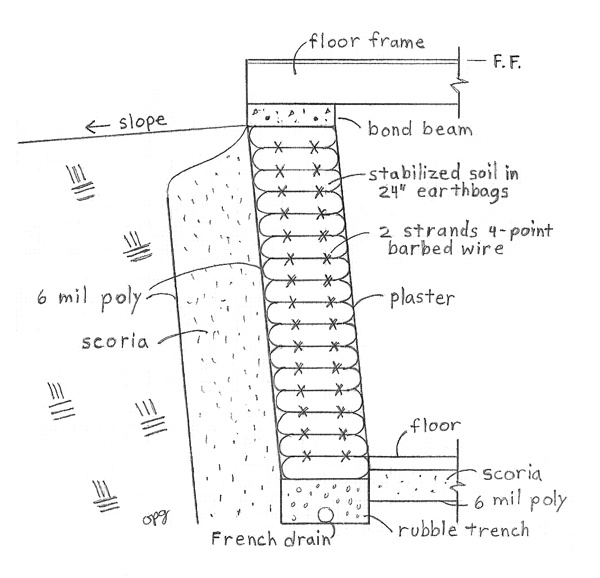 General guidelines for earthbag basements:
– 24″ wide poly bags (measured when empty)
– lime stabilized soil tamped solid
– 10%-20% type-S lime hydrate to dry soil by volume
– mix lime and soil thoroughly before adding water
– two strands 4-point barbed wire
– rubble trench with French drain
– taper walls slightly outward
– double layer 6 mil polyethylene moisture barrier
– use scoria, pumice, etc. for improved insulation
Build on high ground, and grade the site away from the building. Dry climates are obviously more suitable than wet climates. Use caution — working below grade is dangerous. Temporary shoring may be required. Avoid problem clay soils. The final design should be based on soil tests and calculations by a licensed engineer.
I have one plan with a basement: Habitat Earthbag House