I spent several hours working on this project page: http://earthbagbuilding.com/projects/haiti.htm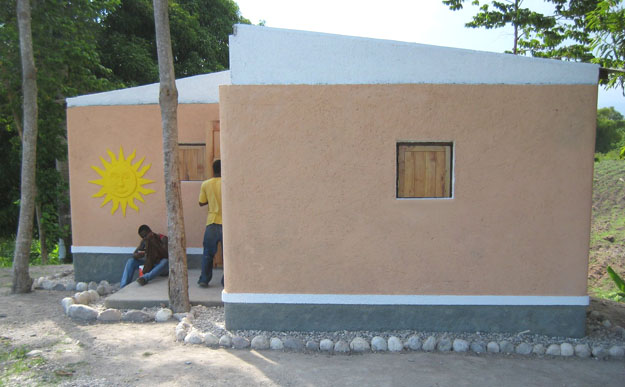 I think it really is one of the best yet, because it shows the entire project from foundation to finish work on a simple home that would appeal to most people around the world; it was created by poor Haitians who had no prior experience; and it was done in a manner that I could easily recommend for others to follow. I think this really shows how earthbag building can realistically work for people throughout the world.
The house itself is a simple design (with some interest because it is an L shape) and was accomplished without any buttresses. Once finished it is nearly indistinguishable from their customary cement block homes, except that the walls are thicker…and it will be more comfortable to live in I am sure.
This home was built at Pwoje Espwa in Southern Haiti, where Father Marc has dedicated his life to serving and helping suffering children. This project not only houses over 700 children, but has an agricultural project, three schools, carpentry and masonry facilities, and an arts and crafts program. They have many ideas to help the Haitian economy and people living there. Because they are a non-profit, and are continuously struggling with funding, I encourage you to visit their website (www.freethekids.org) and consider making a donation to their cause.