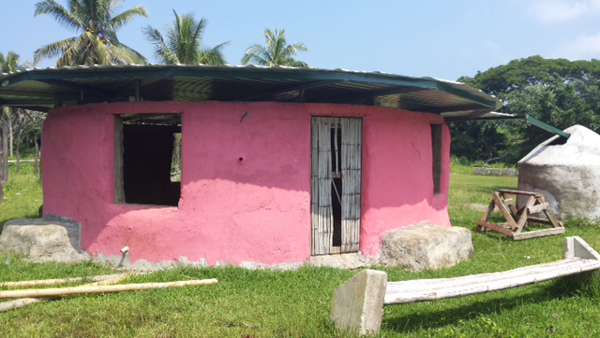 Cyclone Pam, one of the worst cyclones ever recorded in the Pacific Ocean, blasted the island chain of Vanuatu with category 5 winds up to 185 miles per hour and 26 foot storm surge. The women's earthbag center near Port Vila and the earthbag water tank made it through the storm with minimal damage, despite the widespread destruction in the region. As much as three-quarters of the houses in Port Vila were either destroyed or severely damaged. The Wall Street Journal said up to one third of the population may be homeless. Fortunately, some families on Erakor Road were able to safely shelter in the women's center earthbag roundhouse as the storm passed through. Project manager Liz Sherborne said "the trees are all gone. It stands alone on the hill. Paint hardly scratched. Lost three sheets of tin." This news impressed Bundaberg Bag Company enough to donate 1,000 meters of polypropylene tubing to build more earthbag structures and water tanks. According to Liz, "now everybody wants one."
From News Mail:
"Among the small percentage of structures left standing in Vanuatu following the devastation of Cyclone Pam are those made from bags.
The Bundaberg Bag Company has donated 1000m of woven polypropylene tubing to enable volunteers to build more structures using the earthbag process. The bags are filled with dirt before being rendered over with cement and are both cyclone proof and earthquake resistant.
Sydney woman Liz Sherborne is preparing to take the material to Vanuatu, her 10th trip in three years, to help build these structures. "In the wake of cyclone Pam I will be flying over to Port Vila by myself with 1000 metres of Bundaberg Bag tubing," she said. "This is enough to build five water tanks or four small shelters."
More at the source: News Mail
Note: This type of experiential evidence accumulated over time is what will eventually push earthbag building into code acceptance and more mainstream use. Same thing happened to strawbale building and now it's code approved. It just takes years and tons of money to prove the obvious. We'll soon see how many code approved structures were leveled in Vanuatu. And thank goodness for the earthbag water tank. There's a severe shortage of drinking water and some locals are resorting to drinking sea water. Many of the plastic water tanks were destroyed or tipped over. Local stores are no doubt sold out of bottled water.
For new readers, please check out the links on the right side of the page. We have thousands of pages of free information that show and explain everything in detail. There's even a special site for building in developing regions and disaster regions called Earthbag Structures.com.
Related:
Earthbag Water Tank Instructable
Previous report on the earthbag women's center