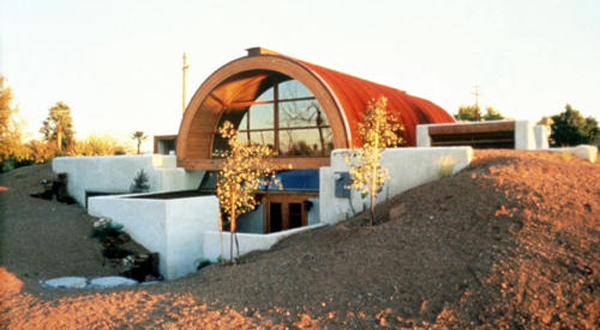 "If you are looking for a home with energy-efficient features that will provide a comfortable, tranquil, weather-resistant dwelling, an earth-sheltered house could be right for you.
There are two basic types of earth-sheltered house designs—underground and bermed.
Underground Earth-Sheltered Homes
When an entire earth-sheltered house is built below grade or completely underground, it's called an underground structure. An atrium or courtyard design can accommodate an underground house and still provide an open feeling. Such a house is built completely below ground on a flat site, and the major living spaces surround a central outdoor courtyard. The windows and glass doors that are on the exposed walls facing the atrium provide light, solar heat, outside views, and access via a stairway from the ground level.
The atrium design is hardly visible from ground level, creates a private outdoor space, and provides good protection from winter winds. This design is ideal for building sites without scenic exterior views, in dense developments, and on sites in noisy areas. Passive solar gain—heat obtained through windows—is likely to be limited because of the position of the home's windows, and courtyard drainage and snow removal should be carefully thought through during design.
Bermed Earth-Sheltered Homes
A bermed house may be built above grade or partially below grade, with earth covering one or more walls. An "elevational" bermed design exposes one elevation or face of the house and covers the other sides—and sometimes the roof—with earth to protect and insulate the house.
The exposed front of the house, usually facing south, allows the sun to light and heat the interior. The floor plan is arranged so common areas and bedrooms share light and heat from the southern exposure. This can be the least expensive and simplest way to build an earth-sheltered structure. Strategically placed skylights can ensure adequate ventilation and daylight in the northern portions of the house.
In a penetrational bermed design, earth covers the entire house, except where there are windows and doors. The house is usually built at ground level, and earth is built up (or bermed) around and on top of it. This design allows cross-ventilation and access to natural light from more than one side of the house."
More at Energy.gov